Hunza Valley Tour Packages 2024 – Explore Hunza tour Packages
The array of unique Packages provides a chance to witness paradise on Earth Hunza at an altitude of 2500 meters. Well! It may surprise you that four peaks over 7000 meters fall in Hunza Nagar. Yes, you heard it right.
Many of you plan to visit Hunza, the beautiful spot on Earth, sooner or later, so we have prepared custom plans for you.
Here, we will tell you the best places to navigate Hunza Nagar in 2024. Valley is best suited for everyone. Come & explore the magical Hunza Valley with your loved ones: experience rich heritage, fantastic culture & delicious ancient cuisines.
List of Trending Hunza Tour Packages 2024
The charm of Nagar, the traditions of Gulmit & grandeur of various Peaks in hunza make Hunza Valley Tour Packages as most sought-after during the summer season. 
Reasons to Book Hunza Valley Tour Packages 2024
Hunza Valley Tour Packages enables Pakistan to RANK # Travel destination in 2020 by "Conde Nast Traveller," a famous US-based travel magazine. Various sights & trekking opportunities in Hunza Nagar make it the most sought-after holiday destination in Pakistan.
The northern areas of Pakistan are indeed heaven on Earth. But, when it comes to Hunza Valley, it is the ultimate winner with no other competition. Located in the beautiful region of Pakistan, Gilgit Baltistan, at the China Border to the north/west of the Hunza River, is one of the absolute beauties on the planet.
Hunza Valley is the crown gem of Pakistan, and the significant tourist spots there will undoubtedly knock your socks off and win your love. Magnificent lakes and snap-capped mountains border this fairytale paradise.
Central Hunza has a rich history with the Ganish village old Settlement dating back to 1000 years old, while Altit Fort & Baltit Fort are historical landmarks of Karimbad.
Upper Hunza, Gulmit town, has old Wakhai Houses with strong links with central Asian countries. You would experience different languages, food & culture in upper Hunza.
Hunza Nagar is home to various festivals, whether spring, summer, or winter. Mostly correlated with changes in weather in such high altitudes. People tend to celebrate every occasion with magical views of gigantic peaks in Hunza Nagar.
Thinking about various trips to Hunza from Islamabad & Lahore – Explore some Amazing Tour Packages below!
 

| List of Holiday Hunza deals 2024 from Islamabad | No. of Days / Nights | Price |
| --- | --- | --- |
| Hunza Valley Deluxe Tour | 7 Days / 6 Nights | Starting From 175,000 PKR |
| Hunza Valley Standard Tour | 7 Days / 6 Nights | Starting From 140,000 PKR |
| Hunza Naran 10 Days Tour | 10 Days / 9 Nights | Starting From 230,000 PKR |
| Notoriously Famous LUXUS Hunza | 04 Days 03 Nights | Couple Price/-  325,000 Rupees |
Hunza Valley Hunza Nagar & why do people think it's the same?
Many people name Hunza Valley Hunza Nagar together, but to be honest, they are unique and have a long history along with a unique culture. Here, a Small river dissects hunza to nagar valley, and the language differs.
Now, Nagar is a separate district; back then, Hunza Nagar Valley was treated as one. If we scout through history, we are amazed at how different they were.
There are various treks in Nagar Valley- Rakaposhi & Rush Lake Trek are ideal for adventure lovers in Hunza Valley, hunza nagar tour plan. We have been offering 07 days honeymoon trips to Hunza and Nagar Valley for a few years.
Hunza Nagar is ideal for weight loss & fitness tours as you can stay in central Hunza but consider walking to Hooper Valley in Nagar. The next day, you can trek to Rakaposhi in Minapin village.
There are various beholding sites in Nagar Valley as it's opposite Hunza valley, and you can only see a full view of Ultar Peak, 7000 meters from Nagar. Furthermore, natives extract precious stones from different locations in Hunza Nagar Valley.
The famous mountain peak and glaciers enlist:
Rakaposhi Peak, Nagar Valley

Ultar Sar1 & Ultar Sar 02, Hunza in Karimbad 

Lady Finger Peak in Hunza 

Golden Peak, Hunza Valley

Darmiyani Peak

Diran Peak, Hunza Nagar
Top Places in Hunza Valley That We Cover in Hunza Tour Packages:
 Historical background of Hunza Valley:
The Hunza Valley is an ethical, lovely, and historical area of Gilgit Baltistan. The Hunza Valley's rich history makes it more attractive to sightseers. The vistas and other ancient things attract tourists, and many other magnificent places reflect the site's history during the Hunza tour.
Hunza Valley Tour Packages is a treat for you if you are interested in history. Hunza Valley has the most significant historical background among all the northern areas of Pakistan. The Royals of Hunza, the Mirs of Hunza, and a lot more history are associated with this gorgeous valley which is more alluring to travelers. Excellence is at the core of culture, and the Hunza Valley is one of the most incredible spots in Gilgit.
There are three distinct parts of Hunza Valley:
Upper Hunza Gojal

Central Hunza

Lower Hunza
Explore Various Hunza Valley Itineraries 
Tourism has become a significant trend in Pakistan since these magnificent beauties of land have attracted people worldwide. There are still many unknown treasures of beauty in Pakistan that can take your breath away with their highly mesmerizing views.
If you plan to visit Hunza this year, we are the best travel company you can find. With our expert tour guide and world-class services, we ensure your trip goes well and you make some unforgettable memories leaving all the stress away. Book your favorite Hunza Tour Packages and enjoy the beautiful scenes of nature.
What are you waiting for now? Just Take the best Hunza Tour Packages from our list and witness the beautiful heavenly valley of Hunza by yourself.
Summer is best to book Gilgit Hunza Tour Packages from the USA.
As we all know, Hunza Tour Packages 2024 From Islamabad is the most popular tour plan in all northern tour packages from Pakistan

. So, we have some great offers for custom trips in the region of Hunza Valley. Come & e
xplore the beauty of Pakistan with a wide range of Northern Areas Of Pakistan Tour Packages 2024 today
.
You can avail of discounted Hunza Tour Packages 2024 Prices with all our standard services
.
Hunza Tour Packages From Karachi is becoming more famous because of the humid summers

.  Book a 5 day trip To Hunza with your family and friends. Further
, Hunza Tour Packages 2024 Price can differ with time and the number of days you stay there.  An average
Hunza Trip Cost From Lahore
is from 80 thousand to 1 lac, but it can vary with time and season.
Food Of Hunza To Taste
Chapshuro,

Tumor Tea

Diram Rents

Go-Lee

Harissa

Return to Garma

Buttering Daudo

Fenugreek Soup
Languages Of Hunza Valley 
Top Events & Festivals of Hunza Valley 
Thukhum Rezi Hunza Festival

Baba Ghundi Festival in Chupurson

Shimshal Kuch Festival

Chinese Hunza Festival
Famous Festivals of Hunza Valley You Can Enjoy On Your Hunza Gilgit Tour
Thukhum Rezi Hunza Festival 
Thukhum Rezi is Persian and means sowing, the beginning of the season of agricultural activity. Due to its historical and cultural aspects, the people of the Hunza Valley place great importance on the festival of Vihumlazi. A massive celebration is held every year.
Some of the events during this festival include traditional polo matches, horse vaulting, traditional music and dance, symbolic farming, bonfires, and mountain lights, among others. Ultimately, the festival became a collective prayer for peace and harmony in the valley, the region, and the country.
Offer special prayers for love and solidarity among all humanity, determined to spread the message of life and continuity. Each household also prepares a unique traditional dish called SEMN, BAAT, and KHISTA and shares it with neighbors, friends, and family. It is celebrated between March 5th and 8th. Book your Hunza Valley Tour Packages Now…
Shimshal Kuch Festival
The Shimshal Kuch festival is one of Shimshal's most important and best festivals. In a remote village in the Upper Hunza region, when the people of Shimshal herd their cattle to pastures in the Pamirs, where they live for five months, they come to eat grass.
During this time, they collect yeast, cheese, and butter for the family to use in the harsh winter. The joy and happiness of reuniting with family are celebrated when shepherds return from their pastures in the Upper Pamirs with flocks.
With thousands of sheep, yaks, and goats, the welcome is a beautiful experience. Following his century-old tradition of sacrificing goats on Shamshall Bridge, it was a way of thanking God for the safe return of his family and herd from the highlands. However, Hunza Valley Tour Packages allow seeing the diversity of this place. The festival occurs every year from October 15th to 18th in Shimshal Valley.
Chineer Hunza Festival
If you book Hunza Valley Tour Packages, visit the place during the festival season. Chineer is a harvest festival usually held during the first week of July in the Upper Hunza region when the barley crop is ripe.
In the mountains, there is only one crop season, and the rest of the year is preserved, which is why this festival is celebrated.
Early in the morning, the head of the family leads his family to the barley field with a special traditional meal. Flour is sprinkled on barley bunches and picked. Cereals are removed from the package, baked, and eaten with yogurt. The whole family should try this yogurt.
Afterward, the family greeted each other, saying, "Shiner Mubarak." During the day, all the villagers gather in a familiar place and serve local dishes. Finally, everyone is praying for a good harvest and thanking God for his blessings.
Baba Ghundhi Hunza Festival
The Baba Gundi Festival is a permanent part of the annual events calendar of the Gilgit-Baltistan Ministry of Tourism, Sports, and Culture. The department organizes festivals annually through the Chibursan Local Support Organisation (LSO).
Baba Gundi is a Sufi saint of the upper Gojal region, originally from Gund in Afghanistan. He eradicated evil in the region and spread Islam. The festival is celebrated in recognition of his remarkable service to Islam.
The festival is scheduled for every year from July 21 to 23, 2023, at the Buzrug "Baba Gundi" mystical shrine in Chipurson Upper Gojal Valley, Hunza. The three-day festival brings together Wakhi people from the border regions of Afghanistan and Pakistan to revive centuries-old trade traditions.
It includes many other sports, such as Buzkashi, Nice Bazi, polo, yak races, and tug-of-war. Want to see these Hunza Festivals? Then try to book the Hunza Valley Tour Packages at that particular time.
Hunza Valley Weather
Valley of Hunza is a small but important town in Northern Pakistan overlooking magical mountains. The valley is unique due to its weather, geological location & towering peaks in close vicinity. We will present your facts about various seasons in Hunza Valley so you can plan a tour as per your comfort. 
Summer Weather in Hunza Valley 
Due to global warming, the weather in Hunza Valley is changing abruptly. Some time ago, June was slated as the start of summer, but now the Month of May is even bitted hot. Some parts of Hunza may still be cold, but overall, if you are in central Hunza, the temperature can be around 20 to 26 Celsius. While the weather in upper Hunza, that, is, Passu, markhoon, Husseini & khyber, tends to offer chilly winds due to narrow gorges. 
Monsoon Season
There is no monsoon in such mountains. When all of Pakistan is experiencing heat waves & torrential rains- the weather in the valley remains pleasant. However, it does rain in the valley, but it is different from the monsoon. In the past few years, glaciers have been melting due to extreme weather patterns fast, leading to flash floods.
During July & August, lower Pakistan experiences monsoon weather, but you will find no humidity in the Nagar region. It may be a bit warm during the day, but it's always refreshing in the evening. Further, walking tours are preferable during the early morning and evening.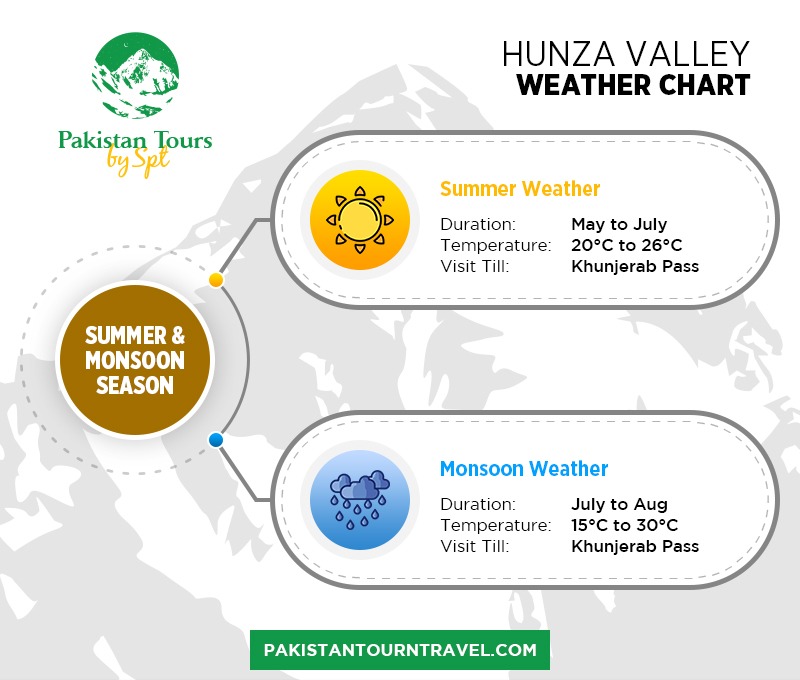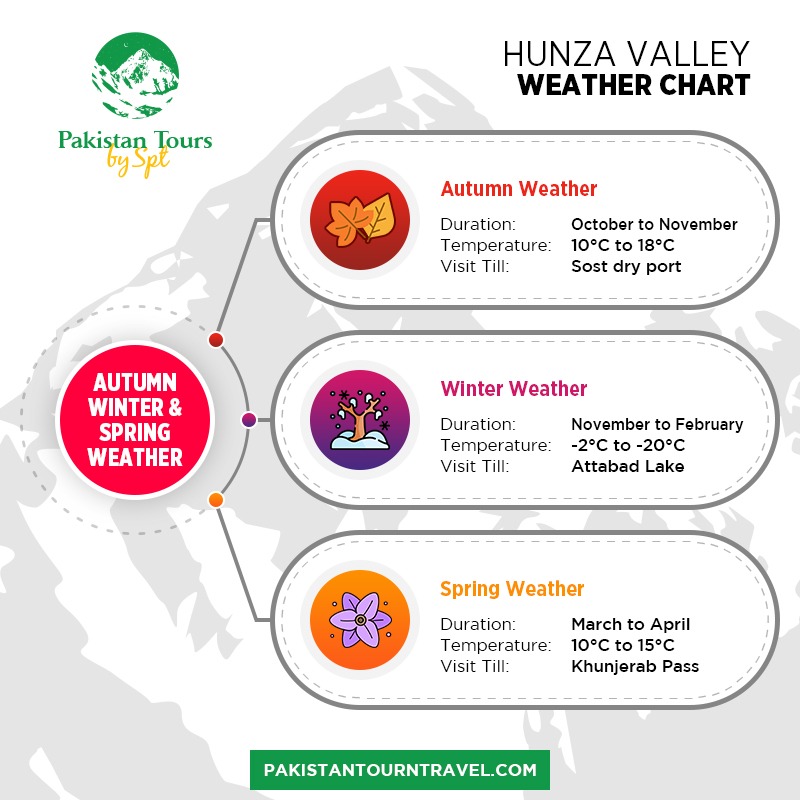 Autumn Weather
Well, it's the time of year when every lead turns to gold. I like autumn as the best weather in the valley. While you still have proper daylight, there is not too much cold weather, around 15 to 18 Celsius on average. Moreover, most of the areas are still accessible. Traditionally, autumn has been attracting many foreigners due to pleasant weather. 
Winter Weather
The Hunza Valley temperature starts freezing in November, which can stay until 15 March. So, winters are long and very harsh. The average temperature drops to nearly -2; in areas like Shimshal & Khunjerab region, it can even touch -10 Celsius. 
People of Hunza experience brutal winters as they stock food items to withstand freezing sub-zero temperatures. Honestly, the people of this region are resilient, and you will find them playing football & ice hockey in bone-chilling winds. Though winter sports are getting famous, international recognition will help improve facilities in such remote regions.
Spring Weather
Well, we are not missing out on spring weather. Cherry blossom is another attribute of spring as it attracts people from all over the world. Thus, nagar valley is home to cherry & apricot trees. Therefore, those trees' Pink & white leaves in the backdrop of mighty glacial peaks present heavenly views. The temperature is around 10 to 15 Celsius during March & April, respectively.
Frequently Asked Question Regarding Hunza Valley
FAQ's
Hunza is famous for the following reasons.
Exclusive place in the world to have 04 Peaks over a 7000-meter elevation
Rich History
Diverse culture
The only Border between Pakistan & China at Khunjerab Pass is 15700 Feet High
Starting place of CPEC 
Unique Culinary Experiences
100% literacy Ratio
Friendly People
Full woman empowerment
Heaven for trekking
Well, anytime to explore Valley is awesome.  Each weather presents its beauty & challenges as well. Though, spring & summer seasons are ideal for all age groups. Meanwhile, autumn has a unique audience from all over the world. Meanwhile, winters are ideal for trophy hunting in the Hunza region.
Well, there are two different narrations of Hunza water. A few years ago, research experts, took samples of various glaciers around the world. Further, it was concluded that Hunza water descending from Ultar peak is the purest & richest with great alkaline values. Unfortunately, over the last few years, these waters are polluted due to the growth in population. Interestingly, a few years ago Hunza water was used as drinking water. Sadly, it's not used as a drinking source anymore.
A local drink fermented from cherry pulp is also named Hunza water. In older days, grapes & mulberry was used for producing Hunza water. Currently, you can still get Hunza Water but it's often China smuggled as " Laffafa " or a ripped product.
Yes,  SCO  "Special communication organization " state-driven telecom provider is offering fast-speed internet in the valley along with telephonic services.  As we know, mountain regions are challenging still SCO maintains good coverage in populated towns of Gilgit Baltistan. Further, you can visit shops & kiosks offering Sim & Data Connections to have a pleasant experience during travel.
No, Hunza is in Gilgit, Baltistan province of Pakistan. The estimated driving distance from Kashmir, Pakistan to Hunza, Pakistan is 780.63 miles (1256.3 kilometers). The estimated travel time from Kashmir, Pakistan to Hunza, Pakistan is 14 hours and 11 minutes.
Well, there are various ways, and the easiest is by booking a Hunza tour with us. If you want to plan hunza nagar valley tour yourself then you can always use public transport.
Various bus services, such as Natco, Faisal movers & private cars are operating on a daily basis from Lahore & Islamabad.

Millions of Pakistani tourists, explore various parts of the valley each Year. While numbers are growing each year while hotels are adding up to cater to requests for luxury tourists as well. You will surely meet lovely people, and enjoy amazing hospitability with an abundance of culinary experience. Lastly, if you are an adventure lover then you have many options to explore in hunza nagar.
What you are waiting for- Book Tour Now by caling us + 92 312 5120 590 
There are many reasons to choose us but I am writing only a few of them below.
Experience – It has no alternative as we have been serving for more than a decade
Custom Options to have relaxing Tour
Wide Range of associated services with 24/7 Support on the ongoing tour
Registered with local & international association
Flexible Terms & Conditions
Proven Track Record
Number 01!  Choice of Foreigners
Own Fleet of Vehicles
Dedicated Drivers
Licensed Guides with DTS Services
Over 500 Facebook Reviews with amazing 5 Star Ratings
Yes, Hunza is certainly safer than any other place in northern Pakistan. According to statistics, the Hunza crime rate is the lowest in Pakistan, which is equivalent to none. However, here literacy rate is much higher than in any other place in Pakistan.
Further, Hunza Nagar is a unique place in Pakistan that can be explored by solo female travelers as well without any issues. People are friendly & hospitable.
Depending on your itinerary, you can stay in Hunza for as long as you want. As Hunza offers numerous places to stay, you can explore the ancient city with a long history on foot. Our 07 Days 6nights hunza valley tour package is one the best in terms of visiting various locations such as below.
China-Pakistan Border,
Gulmit Village Walking Tour
Hussaini bridge, central
Altit Fort in Karimabad region
Khyber & Gulkin Town
Ganish 1000 year settlement
04 hours from Naran Valley  to Chilas Valley, Diamir District
03 hours from Chilas City to Gilgit City on a newly built Road starting from Roykot Bridge with scenic Views
02 hours from Gilgit to Hunza which is also called the road to heaven by National Geographics. 
04 hours from Hunza to Khunjerab pass on Karakorum Road
Yes!  We are offering various packages from Karachi & Lahore at amazingly cheap prices. While all tour start from Islamabad, we initially book air or train journeys. While you reach Islamabad, one night overnight stay is recommended.
In the Last few years, direct flights from Lahore & Karachi also started for Skardu. We have been offering cost-effective as well as luxury retreats in Gilgit Baltistan.