Explore Fairy Meadows Tour Packages – Avail a 15% discount on Fairy Meadows tours in 2023 
If you're looking for an enchanting escape, look no further than Fairy Meadows Tours. Our tours will take you through nature's most beautiful wonders. With trekking tours and tour packages tailored to your needs, we can help you get the perfect getaway. Our tour of Fairy Meadows will allow you to discover this wondrous place's majestic views. So, what are you waiting for? Come and explore Fairy Meadows with us!
Hot Selling Fairy Meadows Tour Packages 2023
Fairy Meadows Tours 2023 is one of Pakistan's Most Selling trekking tours. As we all know, Fairy Meadows is heaven on earth, as the name sounds dreamy. The excitement of narrow passages on a tiny road while riding the 4×4 Jeep makes it super fascinating. 
Fairy Meadows is in the Northern Areas of Pakistan. Many Couples like to visit this because it is on the Top list of Honeymoon Packages from Pakistan.
Fairy Meadows is famous as it faces the 9th highest peak in the world. Gigantic Nanga Parbat (the killer mountain) is near all its extravagance & magnificence. It is located at the core of magnificent north Pakistan and in the district Diamer of Gilgit Baltistan. The richly green plateau is one of Pakistan's best places for camping.
List of Fairy Meadows Tours Offered by Pakistan Tour Travel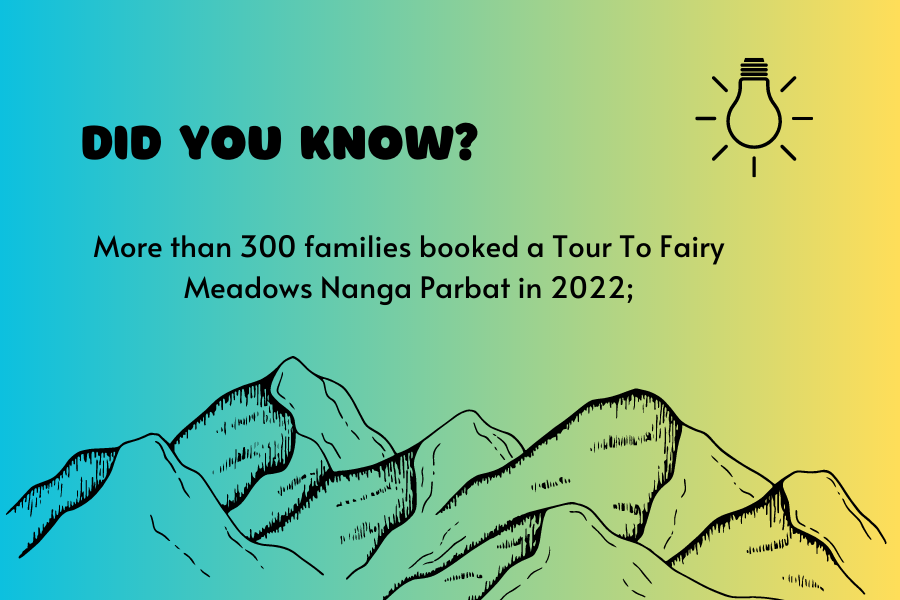 Trekking Guide to Fairy Meadows Pakistan
Fairy Meadows Pakistan was named by an Australian climber, "Hermann Buhl," in 1953 because of its fascinating beauty. He was the first to mount the Nanga Parbat.
The Fairy Meadows has since long been an electrifying destination for the followings:
Climbers

Nature enthusiastic

Environmentalists

Backpackers

Wildlife researchers

Painters

Photographers 

Polo lovers who spend here a couple of days for honest exploration
We bring the most exciting Northern Areas of Pakistan Tour Packages 2023 for our prestigious tourists worldwide.
Trekking Guide to Fairy Meadows
Fairy Meadows to Beyal Camp (2 hours one way) is at 3500 m. It is usually 2 hours one way for trekking in Fairy Meadows, not difficult but a bit easier than others.
The first route started on a flat path, through the dense Fairy Meadows forest, along the hills, overlooking Nanga Parbat and Raikot Glacier to the left. This trail lasts about an hour through the jungle in flat terrain, passing through several streams until you reach an opening where you will see the village covered by Nanga Parbat in the distance.
Congratulations, you have arrived at Beyal Camp. You can have a cup of coffee or walk for another 30 minutes on the way, and then you will reach the observation point 3667 meters high, where you can observe Raikot Glacier and Nanga Parbat up close.
This trail is just a simple outing, so it is ideal for those who don't want to walk too much, but if you're going to hike more, you can follow the road to Nanga Parbat base camp. Part of this road is just a simple outing, so it is ideal for those who don't want to walk too much, but if you're going to hike more, you can follow the road to Nanga Parbat base camp.
Trekking to Fairy Meadows from Beyal Base Camp
Beyal camp to Nanga Parbat base camp can be challenging for the trekkers and can be done in 3 hours one way at the height of 3,967 m. From a 30-minute perspective to the Beyal camp, you must climb a ridge for another 30 minutes, then cross the rocky glacier to reach the base camp. Be careful because the trail is getting steeper and quieter, and the scenery is getting more beautiful. After reaching the glacier, you will have to return, where you will find the Nanga Parbat base camp at an altitude of 3900 meters.
You will no longer have the feeling of imagining yourself walking through an imaginary forest, and you will be surrounded by ice and rocks. Fairy Meadows Road is pretty unpredictable and dangerous sometimes. You can hire a local tour guide or an expert travel agency to travel to Fairy Meadows Skardu.
Fairy Meadows Tour Packages 2023 Price differs depending on facilities & number of days. You can check out exclusive Fairy Meadows packages from our site or customize a tour plan as per your choice.
5 Days Trip to Fairy Meadows is the most wanted tour package in Fairy Meadows, where you can do the Biyal base camping and Fairy Meadows Camping in five days.
Some essential Things to Do in Fairy Meadows are base camping, hiking, and enjoying the galaxy, especially Fairy Meadows at Night. Fairy Meadows 2023 is one of the best things you can do this year.
What do you need for trekking to Fairy Meadows in our Fairy Meadows Tours?
For trekking to Fairy Meadows, you will need some essential trekking gear such as:
A backpack that can fit your clothes, toiletries, snacks, water, and other essentials.
A sleeping bag that can keep you warm at night. The temperature can drop below zero at Fairy Meadows, so make sure your sleeping bag is suitable for cold weather.
Hiking shoes that are comfortable and sturdy. Depending on the season, the trail can be rocky, muddy, or snowy, so you will need a good pair of shoes that can handle the terrain.
A sunscreen that can protect your skin from the sun. The UV rays are more potent at high altitudes, so you must apply sunscreen frequently to avoid sunburns.
A water bottle that can keep you hydrated. You can refill your water bottle from the streams along the trail, but you may want to bring a water filter or purification tablets to ensure the water is safe to drink.
Camera for capturing the stunning views of Nanga Parbat and the meadows. You will not want to miss the opportunity to take photos of one of the most beautiful places in Pakistan.
Headlamp or flashlight that can help you see in the dark. There is no electricity at Fairy Meadows so you will need a light source for the night.
A hat, gloves, scarf, and warm clothes can keep you cozy. The weather can change quickly at Fairy Meadows, so you must layer up and be prepared for cold and windy conditions.
Fairy Meadows Distance from Islamabad
Fairy Meadows's Distance from Islamabad is nearly 540 kilometers, accessible via different routes. Travelers should not worry more about the cliffs as the road is in good condition. It's often said that Fairy Meadows can be a heaven on earth—mesmerizing green pastures in between the mighty production of Allah. Fairy Meadows at Night has an eye-catching view as one can witness thousands of stars/galaxies above your head.
List of Hotels in Fairy Meadows Pakistan
Many hotels serve their services to tourist who doesn't want to stay in camp.
Here is the list of hotels in fairy meadows, Pakistan:
Fairy Meadows cottages
Fairy Meadows Broadview Hotel and Resorts
Fairy Meadows Viewpoint Hotel & Camping Resort
Why book Fairy Meadows Tours 2023?
Pakistan Tour Travel offers a wide range of Fairy Meadows Tour Packages 2023 that cover enormous locations within Gilgit Baltistan and base camping at fairy meadows.
Pakistan Northern Areas Tour Packages are paramount by Pakistan Tour Travel. All local or foreign tourists choose us for our excellent service and effective rates. Furthermore,  Holiday Packages Fairy Meadows differ in different ways—the number of days, the place to visit, and much more.
Undoubtedly,  Fairy Meadows Trip is a thrilling tour to possess, winning a lifetime experience. The land seems like a bouquet of rare flora between the killer mountains of Nanga Parbat. The gigantic mountain gives an incredible backdrop for the Fairy Meadows Base Camp.
Fairy Meadows & Hunza
The tourists love to take a Trip to Fairy Meadows Hunza, which captures two significant regions of Gilgit Baltistan. Both are known for their enchanting scenic beauty and the numerous rare flora and fauna. Our Fairy Meadows Hunza comprises (8 days / 7 nights) covering all the major and minor spots of Hunza and other neighboring areas. Above all,  Nanga Parbat and Fairy Meadows uniquely blend nature and thrill. The cliffs of Nanga Parbat and the richly green plateau of Fairy Meadows are tourist paradises. Because of the high altitude, the weather is cold in summer and very harsh in winter. But each weather has its uniqueness. 
Most of our tourists are about the cost of fairy meadows tours. For them, Fairy Meadow Trip Cost is effective for everyone. Whether it's a group tour or a honeymoon tour, we have complete packages. We provide top-notch services at the best price. However, the cost varies with time and days. Each trip cost is relatively low altogether—Tour Operator of Fairy Meadows. We have a 100% client satisfaction rate; you can check here.
Fairy Meadows Tour Details in a nutshell. 
Fairy Meadows tours price fairly depends on the number of days you are taking and the people traveling with you.
Hunza fairy meadows tours are one of the hot-selling tours in all northern areas tour package.
We proudly offer exclusive Lahore to fairy meadows tour packages for all our adventure lovers.
In the fairy meadows trip cost, you will get all the premium tour services with a well-trained fairy meadows tour guide.
The distance from Islamabad to fairy meadows is about 10 hours via N15.
Five days trip to fairy meadows is more convenient for tourists with a short vacation time.
We thoroughly designed the Fairy Meadows tour plan according to the needs of our clients.
You can watch all the fun adventure activities on the fairy meadows tours youtube by Pakistan tour and travel.
Lahore to Fairy Meadows Tour Packages price differs slightly from the Fairy Meadows tours from Islamabad.
Fairy meadows tourism is boosting daily, and tourists are keen to see the beauty of Fairy meadows with the naked eye.
Frequently Asked Questions
Fairy Meadows rests on which peak?
Fairy Meadows rests on the foot of Nanga Parbat peak.
How to get to Fairy Meadows?
Go to Gilgit, the capital of Gilgit-Baltistan. You can fly there from Islamabad or take a bus along the Karakoram Highway.
Go to Raikot Bridge, 80 km south of Gilgit, on the Karakoram Highway. You can take a local bus or hire a taxi.
Take a jeep ride from Raikot Bridge to Fairy Meadows trailhead. This very bumpy and steep road takes about 1.5 hours and costs around 2000 PKR ($19) per jeep, which can be shared by up to 6 people.
Hike from the trailhead to Fairy Meadows. This moderate hike takes about 2 hours and covers 10 km of distance and 800 m of elevation gain. You can hire a donkey to carry your luggage or yourself for 500 PKR ($4.70) per donkey.
What is average Fairy Meadows weather?
The weather of Fairy Meadows, Pakistan, has its uniqueness. The winter is harsh in fairy meadows due to the high plateau; the summer is delightful here. Additionally, spring brings a blend of color that is never seen in another season with the roaring river. The crimson color of leaves in spring has its charm. The best time to go to fairy meadows in Pakistan is from April to the top of September. Some tourists believe June, July, and August are the best for the Base camp in fairy meadows. Additionally, the place becomes unapproachable in winter due to heavy snowfall.
Is there any direct flight operation to Fairy Meadows?
There is a daily 2-flight operation from Islamabad to Gilgit. Or a straight drive to Chilas from Islamabad is almost 11 hours. From there onwards, via the Silk route up to Raikot Bridge, approximately 76 km from Gilgit. Afterward, 1.5 hours a jeep ride to the village Tatto and 3 Hours Trek to Fairy Meadows.
Where are fairy meadows located?
Fairy Meadows is located in the Daimer District of Gilgit Baltistan, Pakistan.
What is the height of Fairy Meadows?
Fairy Meadows's height is approximately 3,300 meters (10,800 ft) above sea level.
What is the easiest route to Fairy Meadows?
There are three different Routes for Fairy Meadows, which will be easily accessible from the capital of Islamabad. If you plan to visit Lahore to Fairy Meadows or Karachi to Fairy Meadows, you must require a flight from Islamabad to Fairy Meadows.
Fairy Meadows Trek is accessible through two different valleys. Kaghan Valley or Gilgit. Also, trekking towards the Nanga Parbat, the treks are encircled by gushing streams of cold water—the streams formed by the Raikot glaciers. Tourists love to stay at the camping site spread over two acres, well-known as 'Raikot Serai.' 
What is the easiest route to Fairy Meadows?
There are three different Routes for Fairy Meadows, which will be easily accessible from the capital of Islamabad. If you plan to visit Lahore to Fairy Meadows or Karachi to Fairy Meadows, you must require a flight from Islamabad to Fairy Meadows.
Fairy Meadows Trek is accessible through two different valleys. Kaghan Valley or Gilgit. Also, trekking towards the Nanga Parbat, the treks are encircled by gushing streams of cold water—the streams formed by the Raikot glaciers. Tourists love to stay at the camping site spread over two acres, well-known as 'Raikot Serai.'