You Can Have A Destination Wedding In Pakistan By Pakistan Tour and Travel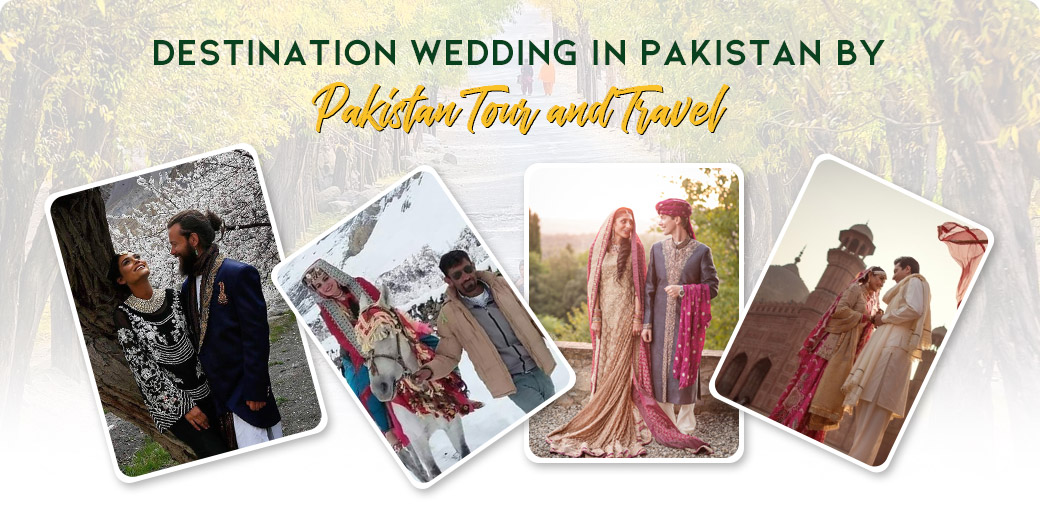 It's a saying When in Rome, do as Romans do, we follow the same pattern. With progress in every life sector, why are our weddings not advancing?
For that, we have special offers for our special clients, the wedding is one of the most memorable moments in anyone's life. So why not plan it in a slightly new avatar? All you need is creativity on your big day and become more impactful to society.
Pakistan Tour and Travel offer an exciting deal, which Desi-destination wedding in Pakistan.
The Desi-destination wedding is a ceremony held at a local destination: in the mountains, by the lake, in Murree, Nathiagali, Bhurban, Nagar Valley, and even in Hunza. We offer the couple the best of both worlds: an impressive location without boarding and spending dollars, but that's not all.
The wonderful weddings are unique and fascinating, they bring you the pleasure of getting married in another place, and warm the companionship with your close friends and family so that you can spend the most special days of your life.
It's not easy to become irresponsible during a celebration. Still, when you organize an outdoor wedding on the mountain or the lake, you have a greater responsibility to maintain the natural beauty and ensure that the celebration does not cause damage.
Similarly, if the wedding is held in the Hunza or Kalash Valley, it is equally important to respect local customs and ensure that your celebrations do not interfere with the locals.
You don't need a budget of millions of rupees to organize the most memorable weddings. All you need is creativity, hosted by people who organize weddings in Murree, Nathiagali, Nagar, and Hunza.
However, if you think this has been done, there are other ideal places for a deliberate wedding, but not yet been explored. Do you need an idea? Here are some.
The Kalash Valley can be an ideal backdrop for cultural and modern-day weddings.
Lake Attabad in Hunza is another ideal wedding venue, unlike Lake Como in Italy. With the opening of new accommodation options nearby, despite the hard work, it seems no longer so difficult.
Although the Shangri-La Resort in Skardu is a very expensive place, it can be a very luxurious and unique place to marry, while the palace in Bahawalpur is another place to explore. After all, if people can marry in the Badshahi Mosque, they should also be able to marry in the Darbar Mahal in Bahawalpur.
The trend of organizing weddings in new locations in China is on the rise, why not us? It is more interesting, different, and affordable than Tuscany or Turkey. Since the northern part of Pakistan is no less than the Swiss Alps, if you don't need to board a plane to get a wedding, do you need to travel to a foreign country to get an incredible wedding background?
Few guests will bring more meaningful experiences. The bride and groom may be dancing. The bride can quietly worry about the "logs kya kahaingey" without wearing too many jewels and heavy clothes.
Travel enthusiasts know that weddings will be the most memorable day of their lives, but they also want weddings to be exciting with unique gatherings, so organized a perfect gathering in Northern Pakistan with our Pakistan Tour Package.