Khunjerab Pass – Highest Motorable Road in Pakistan
Pakistan Tour and Travel is offering packages to Khunjerab pass. Therefore, the Khunjerab pass is famous for the Pak-China International border. The Khunjerab Pass is the highest paved international border crossing point on the Karakoram Highway. The roadway across the Pass was completed in 1982 and has superseded the unpaved Mintaka and Kilik Passes as the primary passage across the Karakoram Range.
Khunjerab Pass is a breathtaking gateway hidden among the majestic mountains of the enchanting Karakoram Mountains. It is located at the end of the stunning Karakoram Highway. Khunjerab Pass, the Pakistan-China border, is the highest point on the Karakoram Highway.
In addition to being the tallest paved international border crossing in the world, it is an architectural marvel at 15,397 feet. 
May to September is the best time to visit Khunjerab Pass. Living in the Punjab capital takes time and effort, and organizing a vacation in the north takes time and effort. But if you want to explore Pakistan and experience its natural beauty, your effort, time, and money will be worth it.
Consider visiting Gilgit-Baltistan this summer, a paradise on earth. The journey can be long and tiring, but it's worth it.
You probably won't mind the distance and effort once you step into these beautiful valleys filled with green meadows and towering snowy mountains.
Most Beautiful Places in Pakistan- Khunjerab Pass
The Khunjerab Pass is strategically located on the northern border of Pakistan, such as the Hunza and Nagar regions of Gilgit-Baltistan and the southwestern edge of China, Xinjiang.
Its name comes from two Wakhi words: "Khun," meaning blood, and "Jerab" meaning a stream from a spring or waterfall.
Khunjerab Pass is the highest paved international border crossing in the world. Completed in 1982, the paved road is the main route through the Karakoram Mountains, replacing the rugged Mentaka and Kilic passes.
In 1966, China chose Khunjerab Pass as the Karakoram Highway because Mintaka was more vulnerable to air strikes.
Daily bus service between Gilgit and Kashgar, Xinjiang, has been operating since June 1, 2006. This is an international border where left-hand traffic in Pakistan's Gilgit-Baltistan turns to right-hand traffic in China and vice versa.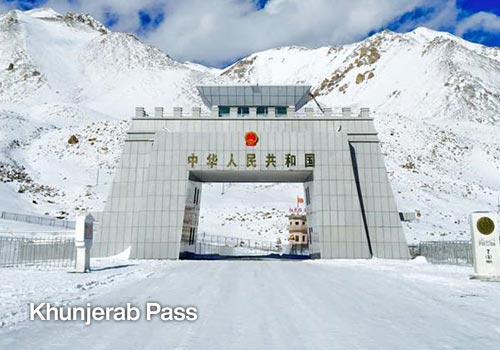 How to reach Khunjerab Pass?
Hunza and Gilgit are two of the most popular tourist destinations in Pakistan. However, a holiday in these areas would not be complete without a stop at Khunjerab Pass.
The road from Islamabad to Hunza is in good condition. So you don't have to worry about an unpleasant trip.
Distances from different locations to Khunjerab Pass.

42 km from Deh National Park Station and Checkpoint.

75 km from Soest Customs and Immigration Centre.

270 km from Gilgit.

Depart from Islamabad on the Pakistani side 870 km.
The summit road, known as Khunerjab Pass and Kunjirap Daban, is fully paved. It is one of the highest highways in the country.
Completed in 1982, this section is the highest metal crossing in the world. Also, on the Pakistan side, you can see the highest ATM in the world.
Travel Options from Islamabad to Khunjerab Pass
Via Skardu by Air: 1 hour. + 6:45 hour drive to Khunjerab Pass
Via Gilgit by Air: 1 hour to Gilgit then 4:15 hours road trip to Khunjerab Pass
By road from Islamabad: 10:30 hours drive
Car, plane, or Pakistan Tour Packages are three options for a pass from Islamabad to Khunjerab. All options have their pros and cons. You can choose any of them according to your personal preferences and requirements.
Head to the stunning view of Khanjerab Pass
You should rent a suitable car instead of driving yourself as the experienced drivers are very professional in the challenging driving of the Karakoram Highway. Many tour companies offer affordable packages in each city if you travel with a group.
The Northern Areas Transportation Company (NATCO) offers bus services from Islamabad to Hunza at very reasonable prices.
If you want to go to Khunjerab Pass, you need to go to Hunza and Gilgit, and from there, enter Khunjerab Pass.
Early morning travel is best to avoid traffic jams and stunning sunrise views.
The journey to Khunjerab Pass is long. The sooner you leave your hotel in Hunza or Nagar, the sooner you can return. By 7 am, you should be on your way. Under ideal weather conditions, the journey from Nagar to Khunjerab Pass takes about six hours.
You can stop along the way at the legendary Hussaini Gojal Suspension Bridge and the gorgeous Passu Cones for some great photos. Because of the peculiar shape of the peak, it is also called "Paso Cathedral."
Things to Consider When Traveling to Khunjerab Pass
Traveling is dangerous and challenging due to the high altitude, which risks altitude sickness, weather problems, hazardous roads, and general inconvenience.

Take your medicine, food, and other essentials on long trips.

Choose your time wisely. The long, relatively flat roads are often covered in snow in winter, so they are usually closed from November 30 to May 1. The border is only open from 9 am to 5 pm, Monday through Friday until 5 pm. On the Pakistani side, from 11 am until 8 pm here in China.

Don't forget to bring warm clothes as the weather can be very cold and freezing.

It is recommended to bring more water to prevent altitude sickness.

Carry a first aid kit with you. People with respiratory or altitude sickness should take extra care and keep their medication/inhaler.

If you want to visit the beautiful Khunjerab Pass, Nagar, Gilgit, and Gulmit have plenty of places to plan your stay.
Frequent-Asked Questions About Khunjerab Pass
How long does it take to get from Islamabad to Khunjerab Pass?
It takes 3 to 4 days from Islamabad to Khunjerab Pass.
How long does it take to fly from Islamabad to Gilgit?
It takes one hour to fly from Islamabad to Gilgit. 15 minutes.
When is the best season to visit Khunjerab Pass?
May to September is the best time to view Khunjerab Mountain Pass.
A trip to Gilgit-Baltistan can be an unforgettable experience. You must experience the extraordinary and breathtaking beauty it offers in our country. The area offers many tourist destinations to give you and your family an unforgettable experience.
You can plan your itinerary according to your budget and time. Plan your next vacation to Khunjerab Pass with us to witness the world's highest border, breathtaking scenery, and mountain peaks in the sky.