Trade refers to the exchange of goods between peoples and nations and nations. The tourism industry generated nearly US$7.6 billion in revenue in 2016 as the number of foreign tourists visiting Pakistan increased. Tourism in Pakistan is economically essential and overgrowing.
More than 1.9 million foreign tourists visited Pakistan in 2020, which is a 30% increase. They see to appreciate our heritage, cultural, scientific, and sporting landmarks, medical or commercial use, and more. More than 2 million people are directly involved in the tourism industry in Pakistan.
Tourism promotes ethnic integration and supports local crafts and cultural activities.
Tourism also helps develop an international understanding of our culture and heritage.
The diverse cities like Gawadar, Gorakh Hills, Gilgit Baltistan, Lahore, Karachi, Azad Kashmire, and interior Punjab are the most popular tourist destinations. These states make vast amounts of money from the tourism trade.
Tourism in Pakistan has grown exponentially over the past three years.
(1) The number of tourists in 2020 increased by 30% compared to 2018.
(2) The number of people directly engaged in the tourism industry exceeds 2 million.
(3) Tourism also promotes ethnic integration and supports local handicrafts.
(4) It also contributes to developing an international understanding of Pakistani culture and heritage.
(5) Foreign tourists travel to Pakistan, mainly for heritage tourism, ecotourism, adventure tourism, cultural tourism, medical tourism, and business tourism.
(6) Skardu, Swat, Gorakh Hills, Gawadar, Gilgit, Lahore, Peshawar, and Karachi are the leading destinations for foreign tourists in Pakistan.
How Can Tourism Relate to Trade or economic business? 
Tourism is critical to the success of many economies around the world. There are many benefits to travelling in the host country. Tourism increases economic income, creates thousands of jobs, develops the country's infrastructure, and fosters awareness of cultural exchange between foreigners and citizens.
Tourism creates a lot of jobs in many different fields. These jobs are not only part of the tourism industry but also include the agricultural, telecommunications, health, and education sectors.
Many tourists travel to experience the host country's different cultures, traditions and cuisines. This is very lucrative for restaurants, shopping malls, and local stores.
Fun Fact: People in Melbourne, Australia, are heavily influenced by tourism. It has a population of about 4 million, and tourism alone has about 22,000 citizens.
The government, which relies on tourism for most of its revenue, has invested heavily in the nation's infrastructure. They want more and more tourists to visit their country, which means advanced and safe facilities. This will lead to new roads and highways, upgraded parks, better public spaces, new airports, and possibly better schools and hospitals. A secure and innovative infrastructure allows for the smooth flow of goods and services. In addition, the local population has the opportunity for economic and educational growth.
Tourism creates a cultural exchange between tourists and residents. Exhibitions, conferences, and events often attract foreigners. Regulators typically profit from admission fees, giveaway sales, exhibition space, and media rights sales. In addition, foreign tourists bring diversity and cultural connotations to the host country.
Tourism is an excellent opportunity for foreigners to learn about new cultures, but it also creates many opportunities for locals. It enables young entrepreneurs to develop new products and services that are not sustainable for the local population alone. In addition, residents enjoy the benefits of tourism that take place in their country.
Can Pakistan build a tourism industry?
Tourism is a complex discipline that requires a lot of thought and planning. The number of tourist destinations in Pakistan has increased over the past decade, especially with the increase of roads along the Karakoram Highway. But beyond connectivity and accessibility, it's worth looking at health, real estate development, energy, traffic management, resources, and public awareness programs.
Pakistan Tourism Industry Statistics 
The tourism potential of Pakistan has long been known. Despite receiving much media attention as a hidden gem, it has failed to attract many foreign tourists due to security concerns and political instability. Over time, the idea of ​​turning Pakistan into a tourism hub has attracted governments. Some steps have been taken to connect and visit remote areas, especially in the northern part of the country.
Developing Pakistan's tourism potential is a private project of Prime Minister Imran Khan. He entered the government intending to build four tourism complexes a year, reaching 20 by the end of his term. All this is to boost tourism in the country.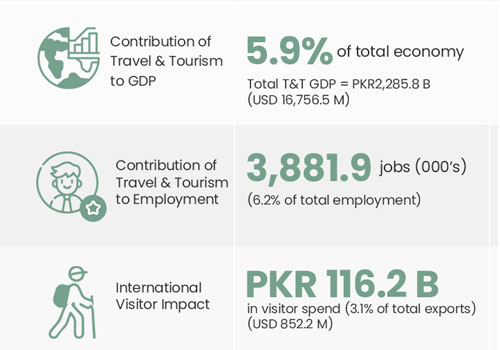 According to the 2021 World Travel and Tourism Council report, the contribution of travel and tourism to Pakistan's GDP in 2017 was $8.8 billion, or about 2.9%. In 2019, the total contribution to Pakistan's tourism GDP was $15 billion, or 5.7%. GDP of Pakistan. Gross domestic product. However, due to the Covid-19 pandemic, this growth fell sharply by about 25% in 2020 to $11.6 billion, or 4.4% of GDP. Likewise, employment in the tourism industry fell by 11.1%, from 3.45 million in 2019 to 3.63 million in 2020.
 But the most important of these numbers is that tourists are its main contributors. State tourism expenditure accounts for 91% of the total spending, and foreign tourists only account for 9% of Pakistan's tourism revenue. Of this, 93% was spent on travel and leisure, and only 7% was spent on business.
Hence, this means that most of the country's tourism demand comes from within. Nearly five million domestic tourists travel to Pakistan every year. But despite all its natural potential, Pakistan still lags in some areas. According to the Tourism Competitiveness Index developed by the World Economic Forum, Pakistan lags in all major sub-indices except price competitiveness, which is only a result of the rupee depreciation.
In the list of 141 countries, Pakistan ranks 130th in the enabling environment, 138th in the safety and security index, 102nd in the health and hygiene index, 138th in the human resources and labour market index, and Ranked 123rd for policies in travel and tourism. And enabling conditions, 120 travel and tourism priorities identified by the government, 107 for tourism infrastructure, and 141 for the Environmental Sustainability Index of 141 countries.
In a nutshell
Tourism is the backbone of any country's economy. As a "developing country", Pakistan's tourism industry has the ability and enthusiasm to turn this weakness into an advantage.
Therefore, to compete on the global stage, the government must explore the wonders Pakistani tourism offers. This includes all avenues, including various tourist attractions, improving tourism institutions by bringing in provincial authorities, adopting policy frameworks, preserving existing interests and providing more profits, and expanding and providing more tourists to our homeland. The best way is to acknowledge Pakistan Tourism as a trade, so more stakeholders invest and add more value to the GDP.
Since 2017, Saba Ghani has been serving as the talented and dedicated chief content writer for Pakistan Tour and Travel & EMHI Solutions. With her exceptional writing skills and in-depth knowledge of the travel industry, she has been instrumental in crafting engaging and informative content that captivates the audience. You can catch her at [email protected] or Twitter