Winter Travel Safety Measures in Pakistan
The recent Murree disaster showed the worst of the Murree community's response to extreme weather conditions and poor management. 
We, the Pakistan Tour and Travel guarantee to provide our customers with the best service. With perfect safety measures, we have designed various affordable Murree tourism plans to bring you more fun in this valley.
In the event of an accident, it is difficult to find a hospital because the security services provided by the northern government are not enough, and the winter weather in the northern region is also very bad. So, keep yourself prepared for any unseen situation. 
We have suggested Winter travel safety measures that you can take when visiting the northern areas of Pakistan.
Importantly: 
If you are not an experienced driver in snow, then we definitely recommend you to hire a car rental company.
In case, you are pro at driving then snow chains are a must to tackle the situation. Snow chains or tire chains are devices attached to vehicle tires to provide maximum traction when driving on icy and snowy roads.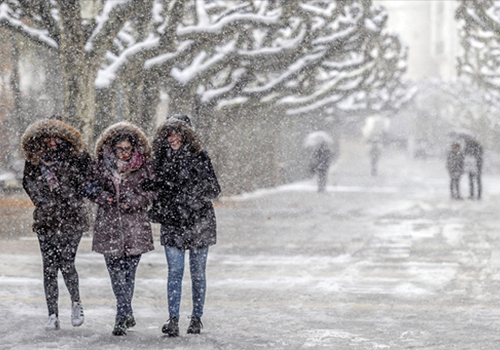 The snow chains are installed on the steering wheel of the vehicle or special systems that can be automatically deployed on the snow chains that swing under the tires.
Winter Snow Safety Tips
Wear warm clothes, you can add or remove them as the situation changes.

Wear a helmet and gloves or mittens, and use goggles and a scarf to protect your eyes and face.

Try to maintain a reasonable level of fitness; in case to have to hike, or leave your vehicle behind.

On sunny days, even if it is cloudy, it is easy to get sunburned on the snow, so be sure to use a broad-spectrum or zinc-containing sunscreen.

Carry lip balm with you and use it regularly to prevent chapped lips and wind burns.

Provide your body with protein and carbohydrates throughout the day and avoid high-fat foods. Don't forget to bring some snacks when you are hungry while running.

Stay hydrated as much as you can.

Tighten and massage tired muscles at the end of the day. 
Winter Weather Conditions
No matter where you go to the snow, whether it is Swat, Kalam, Murree, Naran Kaghan, Skardu the weather will be good, but it is difficult to predict when it will go bad. Changes in conditions, including fog, high winds, and heavy snow, may happen very quickly, and visibility may drop to close to zero, putting you in a potentially dangerous situation.
Always get advice on weather conditions from the resort staff and pay close attention to local forecasts and their forecasts for temperature and snowfall-snow quality tends to improve coolness and vice versa. Pay attention to any sudden temperature drop. When this happens, it may herald a change in the weather.
If you experience bad weather while on the mountain, it may happen very quickly. Start going to the nearest guestroom to get off as soon as possible.
Snow Safety Tips With Car
Here is what you can do when you are stuck in your car and there is no way out in the snow, you can use your car for your survival. Whenever this thing happens to you, just remember one thing "DO NOT GIVE UP", and try these things.
Safety Measures While Driving In Winter
Driving in winter is dangerous, so it is important to be prepared for driving in icy conditions. Visibility may be restricted and the road surface may become very slippery.
Check your car before you go out. Is the battery good? Are the tires inflated enough? Does your windshield wiper work? If I need to remove deposits on the windshield, will the air conditioner work?
If you have rented a car, please ask the hirer for information about mandatory winter road regulations. Should you drive in low light conditions? Do I have to use snow chains or specific tires?
Always drive according to conditions. There may be black ice on the road, so avoid sudden acceleration or braking. Turn and turn smoothly, and keep a sufficient distance from the driver in front of you in the event of sudden braking.
Give yourself enough time to move from one place to another. Driving in snowy conditions means driving slower than usual.
In the snow season, if you are not driving an ATV, you need to use snow chains. Please consult the rental company or automobile authority for more information.
Try to avoid driving at dusk and at night. Not only is visibility reduced, but you may also encounter wild animals.
If you are driving for long distances, please bring extra food, water, blankets, and a flashlight with spare batteries. If there is a long distance between gas stations, filling up the tank can be very helpful. If possible, take regular breaks to avoid fatigue and join the journey if possible.
Keep your phone charged and carry the power bank with you in case you need it. If you are driving in a remote area, please bring a GPS beacon, because your phone has no signal to receive the signal.
Traveling Tips During Winter Travel
Driving in winter seems to have its own set of rules. Since the road can be slippery and icy, it is best to be extra careful when hitting the road, just like in any type of inclement weather.
If possible, avoid driving in winter weather, because even a small amount of ice and snow can make road trips extremely dangerous. If you must drive, here are seven tips to help you stay safe.
Stay on main roads and highways, and stay on the flattest roads possible. Avoid steep hills and roads as much as possible.

Drive alone during the day and avoid driving alone if possible.

Bring a blanket to keep warm in case you are trapped. You should also bring bottled water or hot drinks to avoid dehydration.

Inform family members where you are going and when you plan to return.

If a snowstorm or blizzard forces you to stop, get out of the car and turn on the hazard lights. If you have a distress flag or poster, please hang it on the radio antenna or stick it on the window. Stay in your car because the lifeguard is most likely to find you.

If it stays for a long time, run the engine for 10 minutes every hour to warm up. When the vehicle is driving, slightly open the windows for ventilation to prevent the accumulation of carbon monoxide. Remove snow from the exhaust pipe of the vehicle.

If you must spend the night in the car, please turn on the ceiling lights in the car so that the lifeguard or staff can see you.
We wish you travel safely in this heinous weather in the Northern Areas of Pakistan. Despite very limited resources, we tend to deliver the best tourism service in Pakistan. 
Since 2017, Saba Ghani has been the chief content writer for Pakistan Tour and Travel & EMHI Solutions. You can catch her at sabaghani80@gmail.com or Twitter