Here you will find the information about how you can apply for a Turkey Visa from Pakistan. Also what you need to travel from Pakistan to Turkey. Have you ever wanted to travel from Pakistan to Turkey, but not sure where to start? If so, this comprehensive guide is for you.
Turkey has always been one of the most popular tourist destinations in the world, for a reason. Throughout Eastern Europe and East Asia, this culturally rich country has witnessed the rise and fall of many empires. In fact, the history of the area can be traced back to prehistoric times about 5 million years ago.
From ancient Greek times to the modern Republic of Turkey, this area has been built, destroyed and rebuilt over the centuries-its remains can be seen in the form of various landmarks throughout the country. In addition to architectural wonders such as Hagia Sophia and thousands of years old monuments such as the monastery of Goreme Open Air Museum, Turkey also has stunning scenery and the most beautiful beaches.
It is self-evident to include travel to Turkey in your wish list. However, if you are having difficulty figuring out how to apply for a visa or create an itinerary. Here is all the information you need to know when planning a trip from Pakistan to Turkey.
The visa application process is not as difficult as some people think. When applying for a Turkish visa, you should be aware of the following points.
Here is the list of Visa Requirements For Pakistani Passport that you need to provide while applying to Turkish visa.  You must first collect all the documents required for the visa. The following are the documents required for Pakistani passport holders to apply for a visitor visa to Turkey.
Well-filled visa application form
Two personal photos with a size of 5×5 and a white background
Application form completed by the applicant
Passport must be valid for at least 6 months after arrival in Turkey
Copy of each page stamped from the old passport and the most recent passport
Proof of health insurance when travelling
Proof of polio vaccination
Copy of ticket reservation
If you plan to stay at someone's house, please provide a hotel reservation or invitation letter
If you and your family visit Turkey from Pakistan, you need to provide the NADRA Family Registration Certificate
Proof of bank account maintenance
Bank statement of the last three months
NTN
Signed and stamped payslip
Employment letter from the company
You do not need to visit the Turkish Embassy in Islamabad or the Turkish Consulate General in Karachi, but you can apply for a visa through Gerry's service (Visa Simplification Service).
Most of the tourists from Pakistan have obtained a 10-day visa to travel to Turkey, valid for 6 months (travel time).
Turkish tourist visa fee for Pakistani citizens is reasonable as compared to other countries. If you have Pakistani citizenship, you must pay 9,000 Pakistani rupees for a single visit visa and 36,000 Pakistani rupees for a multiple-entry visa. However, if you choose the latter, you will need to show a formal invitation letter from a company or relative living in Turkey. For work visas, once the applicant is approved, he must pay an additional fee to the Turkish Embassy.
Also, holders of valid visas for the United States, the United Kingdom, Ireland or Schengen are eligible to obtain an e-visa for Turkey from Pakistan. People travelling to the US, UK, Ireland or any Schengen country via Turkish Airlines are also eligible for a 7-day free transit visa.
For one application, Gerry's service fee is PKR 3,450. At the same time, you can enjoy their premium lounge of PKR 4,830, where the representative will help you arrange documents and fill in the required paperwork.
If you want to know how to buy travel insurance for Turkey, just fill out Gerry's insurance form and fill it out at the same time you apply for your visa. For more information about visa fees, you can also contact Gerry directly. Landline phone: 0900-07860, Number of mobile callers: 9999.
Or you can also choose Anatolia Travel Services, as they are also the best service provider in terms of Turkey Tour from Pakistan.
Apply for a Turkish visa from Pakistan. Please be sure to apply for a Turkish visa at least 6 weeks before the travel date. The processing time for applications is usually between 10 days and 4 weeks. However, in some cases, it may take longer. In any case, you must apply at least 1.5 months before the departure date.
Weather in Turkey is pleasant. Check the weather forecast before travelling to avoid extreme situations
Although it varies from region to region if you want to avoid extreme humidity, rain, heat and cold, the best time to travel from Pakistan to Turkey in April to May and September to October.
Also, Turkey (especially Istanbul) becomes crowded in June, July, December and January because most people like to travel during summer and winter vacations. However, before doing this, be sure to check the weather in Turkey
Besides, Turkey (especially Istanbul) becomes crowded in June, July, December and January because most people like to travel during summer and winter vacations. However, before making any reservations or booking flights, be sure to check the weather in Turkey.
Turkish lira and coins. Always carry a few pounds in the smaller denomination of the heart
The Turkish Lira (TL and TRY) is the official currency of Turkey. At the time of writing, 1 Lira is equal to 26 Pakistani rupees. However, some hotels and shops may also accept Euros.
For travellers to Turkey, it is recommended to bring a few pounds of transportation and tips. You can carry the remaining money in Euros or U.S. Dollars and exchange it from a trusted store in town. If you have a debit or credit card, please contact your bank to inquire about international transactions.
Pro tip: Turkey's crime rate may be very low, but tourists should be extra careful during their journey to protect their luggage. Take a look at some tips on how to protect your money while travelling.
When travelling to Turkey, please follow the general tips below:
In terms of tipping in Turkey, each baggage porter of tourists is expected to pay 4 Turkish liras to 5 Turkish liras for each baggage, while hotel room service staff will charge 5 Turkish liras to 7 Turkish liras per day.
Also, server tips for restaurants and cafes must be paid from 5% to 10% of the total tip. If you go to a Turkish bath (also known as Turkish bath), you can expect to get 15% of the total price.
It is very important to connect with your friends and family during the trip. Since most service providers in Pakistan charge high fees in the name of international roaming, it may be better to purchase a local SIM card during the journey to Turkey.
For those who travel to Turkey for the first time, there are two major operators in the country that provide good coverage and 4G packages at affordable prices. The most popular among tourists is Turkcell, followed by Vodafone.
You can easily find the booths of these operators at the airport. These facilities provide convenience for inbound tourists.
A direct flight from Pakistan takes about 6 hours. Most tourists like to arrive in Turkey via Istanbul, which has two active international airports: Ataturk International Airport and Sabiha Gokcen International Airport.
Although most airlines offer flights from Pakistan to Turkey, Pakistan Airlines (PIA), Emirates, Qatar and flydubai are the most popular options for one or two stations. At the same time, Turkish Airlines provides direct flights to Istanbul.
If you plan to travel to Turkey, the average cost of economy class to and from Istanbul is 75,000 PKR and 95,000 PKR. The direct flight from Turkey to Pakistan takes about six hours.
Since searching for cheap air tickets is not easy, you may need to book air tickets for several months in advance to save on travel costs.
Planning to travel to Turkey then don't forget to reserve some cash when travelling.
For regular travel packages from Pakistan to Turkey, most companies charge a price of approximately Rs 1.6 for PKR 2 lac. Usually, these trips include air ticket reservations, accommodation, trips within and from the city to three to four major cities, and tickets to popular tourist attractions.
Even if you do everything yourself, you can easily plan a similar itinerary and travel from Pakistan to Turkey at a PKR 1.8 per person, including the above visa fees and some shopping expenses.
There are three popular ways to travel: by plane, bus or car. Not many people take the train in the country. However, if you plan to visit any of the beautiful islands in the country, you must take a ferry.
Many domestic airlines offer domestic flights at very reasonable prices. At the same time, for those who like to travel or want to enjoy the scenery, hiring a driver and renting a car seems to be more viable options.
However, if you travel to Turkey on a budget, you can travel between cities at any time by bus. Most of these buses are luxurious and provide passengers with Wi-Fi, tea, coffee and snacks during the journey.
For city trips, public buses and trams are much cheaper than taxis and private transportation services.
Related Post: The Best Way To Travel In Istanbul
There are some of the mouthwatering Turkish cuisines that found in a different restaurant, you must try them.  Delicious Turkish food will make you crave more. Although the cuisine of Turkey is different, because of the fusion of Mediterranean, Central Asian and Arabic flavours, Turkish cuisine can only be said to be extremely rich.
Although the list may be long, here are some popular dishes you should not miss when you visit Turkey. You can have Mezze Platters or even Doner. The Turkish cuisine list will make you go, Kofte, Lahmacun, Turkish Delight, Baklava, İskender Kebab, Manti, Kumpir, Simit, Börek, Pide and many more.
Not to mention, the advantage of travelling to Turkey is that you don't have to wander around looking for halal food.
The best attractions during your trip to Turkey. In terms of historical monuments and natural beauty, these are the best cities in Turkey.
Istanbul
Antalya
Cappadocia
Ankara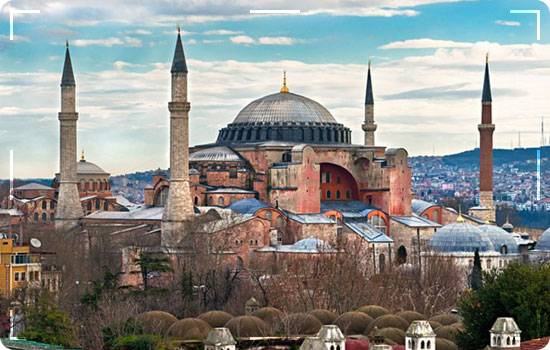 See the most popular destinations and attractions you can visit in each city during your travel in Turkey.
Related Post: Turkey Tourist Attractions
Related FAQs
You will be happy to know that you can apply for an electronic visa for Turkey online without a lot of things. During the application process, you should have the following: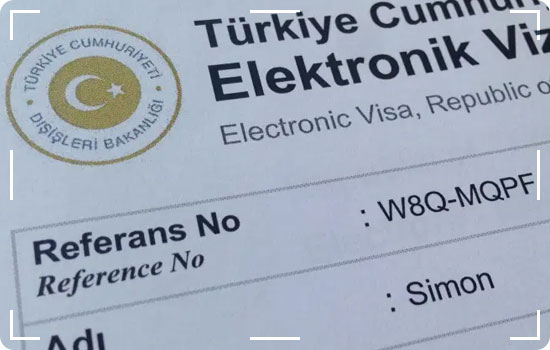 Passport: All applicants must have a passport. Also, the travel document must be valid for at least six months from the date of arrival in Turkey. At least two blank pages are required.
Photo: You need to make sure that the photo was taken recently. The background should be white. If a visa is to be issued upon arrival in the country, the applicant must bring two passport-sized photos attached to the application form.
Payment method: Credit/debit card or PayPal account.
Scanned copy of Schengen visa or residence permit from the US, UK or Ireland
Fill out the online application form.
This merely depends on which process you choose. First one is the online service that provides you with three options in terms of processing time, so you can choose the one that suits you best. You can choose the following options: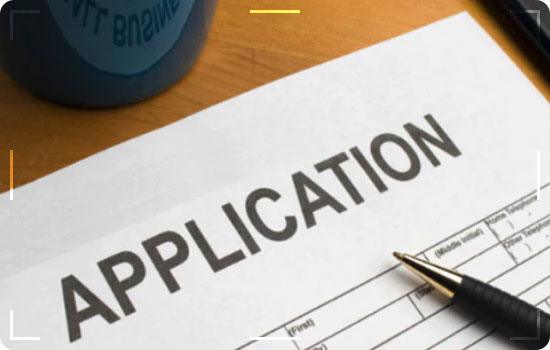 Standard processing the electronic visa will arrive in Turkey within 24 hours.
Fast processing-your order can be processed in only 4 hours.
Super expedited processing your travel documents are ready in only 30 minutes.
The amount you will spend on an electronic visa in Turkey depends on the processing time period you specify. They are as follows:
Standard way: US$86.50
Premium Way: $106.50
Super Rush Processing: $126.50
Pakistani citizens should be able to prove that they have all valid documents at the border. All personal data of applicants will only be protected and used during the electronic visa process. Having an entry visa to Turkey does not automatically grant entry permits to the country. If an immigration officer believes that someone does not meet the entry requirements or poses a threat to the country's national security, they can refuse entry. The visa extension must be submitted together with the relevant documents and the purpose of the extension must be stated to the Turkish Immigration Service.
Turkey's electronic visa is valid for 180 days after arrival. This is a single-entry visa, with a maximum stay of 30 days per entry.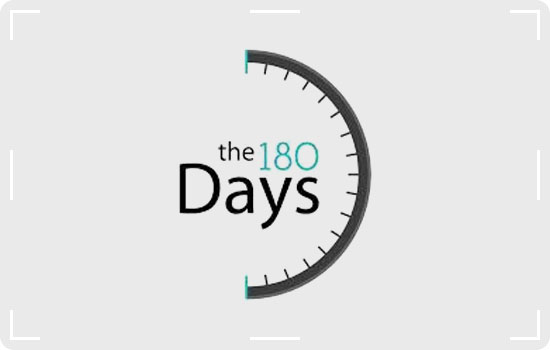 Did we miss anything, write down in the comment section below:
Since 2017, Saba Ghani has been serving as the talented and dedicated chief content writer for Pakistan Tour and Travel & EMHI Solutions. With her exceptional writing skills and in-depth knowledge of the travel industry, she has been instrumental in crafting engaging and informative content that captivates the audience. You can catch her at [email protected] or Twitter