Have you ever heard of the hidden beauty of Jahaz Banda meadows In Kumrat valley? Let us tell you about the amazing spot in Kumrat valley that is slightly unexplored by tourists. 
Overview: 
Jahaz Banda is located in the Kumrat Valley in the Upper Dir District of Khyber-Pakhtunkhwa Province, Pakistan. The area is 3100 meters above sea level and is surrounded by snow-capped mountains, green pastures, and towering trees. The main road heading north from the top of the monastery reaches the village of Darwaza. It then splits the road and enters the village of Lamuti. The road to Jindari Village is extended by a path without iron. Then to reach Jahaz Banda meadows, you have to go further.
Additionally, the climate of Jahaz Banda is very calm and fragrant. The beauty of this place is so enchanting that one cannot stop praising the creator. Jahaz Banda is an ideal place to cater to trekkers. The originator is fantastic. Visitors click here for beautiful pictures. It's a sight to remember.
The mountains are the biggest attraction in the Kumrat Valley. Trekking is the main interest of Jahaz Banda. Hikers from all over the world come here to hike with a group of professional hikers. If you're a mountain climber, the snowy mountains and stunning valleys will amaze you, so don't forget to complete your visit. Some hotels you might consider staying at during your visit to Jahaz Banda include Hotel Comfort Inn, Jahaz Banda Stop, and Friends Hotel Jahaz Banda. Jahaz Banda will give you an amazing trekking and hiking experience, so don't forget to go there for an energetic and fun experience.
Jahaz Banda Meadows
With vast plains and a perfect climate, Jahaz Banda Meadows is seeking tourist attention. Jahaz Banda Meadows is a lush, idyllic green hill station located in the upper Kumrat Valley. Upper Dir District KPK, Pakistan, 3100 m above sea level. Arguably a hidden gem in Pakistan. However, the valley has natural beauty, waterfalls, lakes, and forests.
Complete Guide To Jahaz Banda Trekking:
First, the journey starts from Jandari town. Jandrai can be reached in 4-5 hours by 4×4 jeep from Dir. In Jandari, there is the famous Raja Taj Muhammad who is the main point of contact for all spectators and trekkers who come to explore the area. The fare or gratuity from Thall to Takki Top Jahaz Banda and back to Thall ranges from Rs 10,000 to Rs 12,000 for a night or two at Top. The journey time from Takki Top to Jahaz Banda is 3 to 4 hours.
Road conditions: 
The road to Dir is well constructed and it's smooth till the end. You'll only encounter a few shabby roads around Taal. Leave your ride at Taal and take a jeep to Kumrat Valley and Jandrai in Jahaz Banda Trek. 
Tourist attractions To Visit in Jahaz Banda meadows
Taki Banda, 

Katora Lake,

Jahaz Banda Meadows,

Jahaz Banda Waterfall.
What to do here?  
Jeep hunting, horseback riding, fishing, camping, hiking. However, there is no proper restaurant at the top. Locals have small kitchens in hotels to cater to tourists. Most of these are campsites and cabins.
What you should bring with you?
Cold Clothes

Shop

Sleeping Bag

Shoes Or Hiking

Raincoat

Food

Bottle Of Water
 Average temperature At Jahaz Banda Meadows:
The average temperature in Jahaz Banda Meadows is 10°C (minimum) and 15°C (maximum). However, summer is always the best time to hike here, as the winters are dry and chilled here. 
Telecommunication Network:
Telenor is the only communication network. However, keep an eye on the current scenario before making any plan to the north, especially the temperature and season before visiting this place.
Trekking Guide to Katura Lake, Jahaz Banda Kumrat Valley,
Lake Katura is a glacial lake located at the top of the Jahaz Banda Meadows in the Upper Kumrat Valley of the KPK, Pakistan.
The lake is approximately 11,500 feet high. The Katura "bowl" is named because of its bowl shape.
This is a beautiful lake and one of the most attractive lakes in Pakistan. The lake is covered with snow in winter and partially covered after winter. For a month or two in summer, the snow melts completely and the lake becomes completely clear.
Surrounded by mountains on all sides, the lake is lush with greenery and charming scenery. Best of all, you don't need a guide to get there.
How to Get to Lake Katura?
The road to Katura Lake starts from Thal Market in the Kumrat Valley.  Once it reaches a thal market. There are separate town roads. Those on the left head to the black waters of Kumrat Abshar valley, Kala Chashma and Do Janga.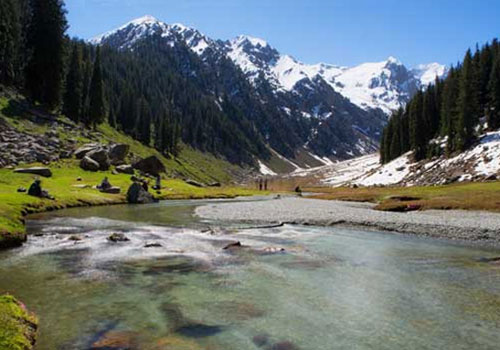 Turn right from Thal Market. This will take you to Taki Banda where you can park your car. On the way to Taki Top or Taki Banda, you will first come to Jandrai, then Taki Banda. Moreover, the total distance from Thal to Taki Banda is almost 16 km. The only way to get there safely is by bike or 4×4 jeep.
It is easy to rent a jeep in Thal Bazar for no more than 4000 to 5000 PKR. Taki Top or Taki Banda is the last point of the vehicle. Take a break, have a cup of tea, and get ready to fly. However, the road to Katura Lake is well constructed so there is nothing to worry about.
Trekking from Taki Banda to Jahaz Banda
The hiking trail starts at Taki Banda. The trek is easy and takes less than two hours to reach Jahaz Banda Meadows. Additionally, the journey is only 6 kilometers, and you can easily get fresh water from cold streams during your trip. After reaching Jahaz Banda, relax and spend the night there.
Katura Lake Trail
Start tracking Lake Katura early in the morning. Please leave your less important items at the hotel. This will help you as you walk. The journey from Jahaz Banda to Katuraa Lake takes no more than 2-3 hours. There is a bewitching Jahaz Banda waterfall, that is worth visiting indeed. The road is beautiful and green. The beautiful meadows of Jahaz Banda are mesmerizing.
When walking, stay hydrated and motivated. Enjoy nature, observe and feel the essence of nature. Once you reach Lake Katura, you will find a small lake. Water from Lake Katura flows into this small lake.
There are goat, sheep, and dairy farms along the way. If you ask the priest, you can get fresh Lassi, a typical Pakistani drink. The roads get snowy and slippery as you approach Lake Katura, and it helps to use the good hikers there. Once you arrive at Lake Katura, you will be mesmerized by the beauty of nature. There is a small cafe on Lake Katura. A real treat for tea lovers. Relax and enjoy the beautiful nature. Another small lake leading to Katura Lake Jahaz Banda Kumrat Valley KPK Pakistan.
Jahaz Banda's camp and bonfire
The most important things in the journey are delicious food and comfortable accommodation. Moreover, there are also small hotels where you can find food. Campsites and rental rooms are also available. They will not charge more than 1000 PKR per room.
There can easily accommodate four or five people. It is best to bring your own tent and sleeping bag. Place the tent where you feel comfortable, safe, and comfortable. Here, local people are very hospitable and welcome food and space whenever you need it.  Enjoy the flames and stars. Relax and get ready for your next trip. This is the most popular campsite at Jahaz Banda Meadow leading to Katura Lake.
Since 2017, Saba Ghani has been serving as the talented and dedicated chief content writer for Pakistan Tour and Travel & EMHI Solutions. With her exceptional writing skills and in-depth knowledge of the travel industry, she has been instrumental in crafting engaging and informative content that captivates the audience. You can catch her at [email protected] or Twitter