Winter is here, and winter festivals are celebrated all over the world have begun. Unfortunately, in Pakistan, snow and winter can only be seen in the northern areas of Pakistan, which is a place where families from other parts of Pakistan travel to enjoy coolness and joy.
However, in areas of the world where there is a lot of snow in winter, people enjoy and celebrate the season in their own way, from vegetable wars to the brilliant lights or fire festivals of Niagara Falls. If you are one of the lucky ones to travel abroad this season, you will see various winter festivals being staged. So today we have collected some of the most exciting festivals held around the world in winter. They are not only interesting but also attractive.
List of Winter Festivals Around The World 2022
Can't afford a steaming tropical vacation this winter? do not worry. Greet the cold with these comfortable (and family-friendly) winter festivals all over the world. Some of the best winter resorts are hidden inconspicuous locations: exploring China's magnificent ice sculptures, watching the twinkling lights of the Netherlands, participating in the New York Winter Games, and more. 
Here are favorite winter festivals for travelers who love the cold:
 Harbin Ice and Snow Festival
Location: Harbin, China
Time: December 23, 2021, to February 28, 2022
So far, the Harbin Ice and Snow Festival is one of the coolest events in China. More than 120,000 cubic meters of ice and 111,000 cubic meters of snow have created this winter wonderland handcrafted by famous ice sculptors across the country. It is not just a replica of a famous building; you will find snowshoes, sleds, and more than two thousand snowmen. Everything is lit by beautiful lights, so the fun lasts until late at night. If you feel brave, you can try ice swimming. Don't miss the opening ceremony with fireworks and music.
Amsterdam Light Festival
Location: Amsterdam, The Netherlands. 
Time: December 2, 2021, to January 23, 2022
This is easily one of the most exciting events in Amsterdam in winter, and one of the easiest to catch, because it lasted for two months to try to eliminate those winter blues. The Amsterdam Light Festival is composed of hundreds of art installations made of light and is the venue for exhibitions on land and on water. The water exhibition is on display on the picturesque Herengracht Canal, and you can stroll and taste mulled wine in winter-you can even see it on the water through a canal tour! The ground gallery has become particularly innovative with interactive lamps that respond to touch and sound. Winter has never been so fun.
Hwacheon Sancheoneo Ice Festival Korea
Location: Hwacheon County, South Korea
Time: January 27, 2022, to February 16, 2022
Like most Korean festivals, the Hwacheon Ice Festival is never boring. Hwacheon is a village located in the northernmost part of Korea. Are you ready to go fishing with your bare hands in the cold water? If not, you can watch the most experienced and brave cold. This is really impressive. You may even start to see people jumping into ice puddles, which may be a decision made by Suju. Any fish you catch can be caught by hand or any other method and cooked fresh on-site, which is an important part of the festival. If you don't like fishing, there are also huge ice rinks, ice skating, sleigh rides, and delicious Korean food. You can also sit and watch ice hockey and ice football. Hwacheon Town is also decorated with exquisite lanterns and winter lights, which is perfect for a fun picnic.
Portland, Oregon Winter Festival of Lights
Location: Portland, Oregon. Hamid Shebata Bennett
Time: February 2, 2022, to February 12, 2022
Once a year, Portland will be lit up in the wonderful winter light festival, which is inspired by light festivals all over Europe, such as the famous Lyon Light Festival in France. Aiming to eliminate the darkness of winter, fixtures appear throughout the city, and the level of creativity is impressive. Portland has taken the tradition of "Christmas lights up" to a whole new level, with light tunnels, acrobatic light shows, and flame shows. This is one of the most popular Instagram festivals, full of surprises. You will find hot chocolate and street food to keep out the cold, and there are many choir performances that allow you to enjoy a healthy, family-friendly picnic.
Carnaval de Québec, Canada
Location: Quebec City, Canada
Time: February 4, 2022, to February 13, 2022
There is some serious history behind this exciting Quebec City winter festival. This tradition dates back to 1894 and aims to illuminate Canada's harsh winter. The Quebec Winter Carnival is located in Old Quebec, and it feels like you stumbled across a European winter wonderland, if not for all the unique traditions that make this festival so unique in Canada. Do you know how to tie your arrow scarf? It used to be a special belt to keep out the cold, but now it is a must-have item for festivals. Don't forget to wear red and pick up the horn! The parade is amazing, as you would expect from the largest winter carnival in the world. From Rue des Érables through Grande Allée, let George V immerse himself in the splendor of music, floats and colors. Be sure to catch up with the daily competitions and activities, watch the ice sculptures, and enjoy all the fun of winter.
Saranac Lake Winter Festival, NY
Location: Saranac Lake, New York

Time: February 4, 2022, to February 13, 2022
As one of the oldest winter festivals in the United States, the Saranac Lake Winter Carnival has celebrated winter with a series of events centered on the 3,000-block epic ice palace since 1897. The king of the winter carnival is crowned and the winter games begin. If you are a skier, you can try Arctic snowboarding, Arctic Frisbee, and snowshoeing. However, the most important event in the action is saved to the end, when the "Palace Storm" occurs: a huge firework show is lit around the palace and the ice cubes are lit for a magical and unforgettable ending.
Slovenian Dragon Carnival Ljubljana 2022
Location: Ljubljana, Slovenia
Time: February 1, 2022, to February 28, 2022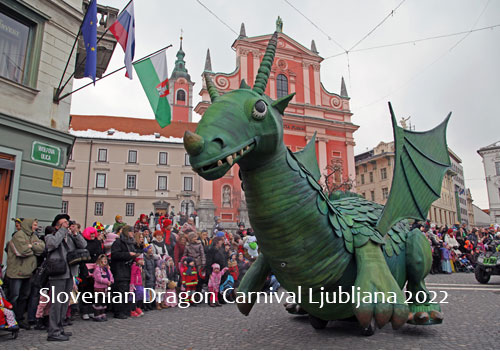 Slovenia is a country that loves festivals, and the winter carnival welcoming the spring is a huge mixture of pagan and Christian traditions. The Ljubljana Dragon Carnival is held in the central square of Maribor, which combines color, fun, and many masks. You will see most people in this city wear the costumes of bears, fairies, witches, and demons to drive away the winter months and welcome the warm weather. You may be wondering where the dragon enters all of this, and you won't be surprised because the powerful green beast leads the march and the creatures behind it. You can also travel to other parts of Slovenia to watch some other eye-catching winter festivals taking place around the same time.
Venice Carnival, Italy
Location: Venice, Italy

Time: February 12, 2022 to March 1, 2022
Venice is special at best, but during Carnival, it is like walking into another world of elegance, color and fun. This festival lasts for two weeks and marks the end of winter. Although this is a fun week, there are some activities you don't want to miss in a few weeks. First is the water parade, where brightly decorated boats cross the Rio di Cannaregio River with amazing performances, and then with food stalls and music playing, the party really begins. Next, you will want to see Festa delle Marie, which is the second Sunday, featuring the masquerade parade famous for Carnival. When they travel from Garibaldi to Piazza San Marco, you will see those amazing clothes and masks here. Finally, on the second Sunday, Angel Flight saw the rope angel flying towards the Governor. This was an impressive acrobatic performance that ended the whole fun.
Cologne Winter Carnival, Germany
Location: Cologne, Germany
Time: February 24, 2022 to March 2, 2022
Millions of people from all over the world gather in this city to enjoy the celebrations of the Middle Ages. In Germany, beer and gluhwein are excellent and free-flowing, making it one of the winter festivals with the highest alcohol content on this list. Crazy events at the Cologne Winter Carnival include "Fat Thursday" (women cut off men's ties and reward them with a kiss) and "Pink Monday" (pink Monday), which ended the carnival with a day of band scandal during the weekend. Floats and street parties. The celebration lasts for about a week, and although things are still open, you will actually find people dressed up and full of Christmas atmosphere all week, even if they are working!
Vinterjazz Festival in Denmark

Location: Copenhagen, Denmark
Date: TBD 2022
If you are looking for winter music festivals in different colors, head to Vinterjazz, they celebrates the colder months with more than 600 jazz parties all over Denmark. Feel the breath of winter in some of Denmark's largest music venues, and even relax in the cozy Copenhagen coffee house, immersing yourself in all the healthy atmosphere. With the performances of domestic and international musicians and paid and free performances, the winter in Denmark has never been a dull moment…
Sapporo Snow Festival
Location: Sapporo, Japan

Date: TBD 2022
Every February, Sapporo hosts Japan's most popular winter festival, the Sapporo Snow Festival, attracting two million visitors each year. Similar to the Harbin festival, the ice sculptures are the main event here with towering, illuminated castles and statues as tall as 15 meters to admire. Have a go on the snow slides and get lost in the snow maze for some chilly activities. What makes the Sapporo festival particularly cozy, however, are the amazing food and drink stalls lining the three festival sites: Odori Site, Susukino Site, and the TsuDome Site, plus the live music that adds to the fun and festive atmosphere. If you're seeking a super cozy way to snow this winter season, the Sapporo Snow Festival is one of the best things to do in Japan.
Since 2017, Saba Ghani has been serving as the talented and dedicated chief content writer for Pakistan Tour and Travel & EMHI Solutions. With her exceptional writing skills and in-depth knowledge of the travel industry, she has been instrumental in crafting engaging and informative content that captivates the audience. You can catch her at [email protected] or Twitter