If you have ever spent time in South Asia, especially in Pakistan, Afghanistan and India, then you will definitely see colourful and gorgeous trucks rolling on highways and highways. In these countries, especially Pakistan, truck art is not only a form of cultural expression but also a deep-rooted tradition that can enable the driver business to flourish. So what is the story behind these animation works? What is the real meaning of the beautiful and bold designs that surround these vehicles?
The origin of Pakistani truck art can be traced back to the 1920s when Bedford trucks imported from the UK took to the streets of the country. They are equipped with large wooden arches above the truck bed. The entire cockpit is also equipped with decorative arches, called crowns, with decorative bumpers and wood panels. In the late 1940s, when trucks began to deliver long-distance freight, each company designed a logo so that illiterate people could know who the truck owner was.
In recent decades, Pakistani truck art-hand-painted floral patterns, poems, and even cartoons of popular characters in trucks, buses and long-distance tuk-tuks has become more and more popular in Western countries.
However, in his birthplace, art aroused little interest among art lovers. Over the years, the trucks have been filled with bright flower patterns, cartoons, and even life lessons in the form of poetry. Recently, buses and rickshaws passing through the city centre have also adopted this art form. In addition, artists are now beginning to apply this type to various products, such as bags, shoes, decorative pieces, and furniture.
Many of these vehicles are art galleries on wheels and decorated with woodcuts and hand-painted designs. There have been many books about intricate carvings and craftsmen's attention to detail. One point that has been explored is the origin of trade. Little known is that the idea came from the car shops and tea stalls frequented by truck drivers.
A truck is fully decorated and assembled and costs between 150,000 rupees and 200,000 rupees. The process includes body surface levelling, painting, carpentry and truck art.
A truck project can provide income for 20-25 workers. It takes two to three weeks to make shapes and drawings. Work payment depends on the design complexity or quality required by the client. Generally speaking, the daily salary of the painter is 1,500 rupees, while the daily salary of his assistant is 300 to 400 rupees.
Those who pursue a literary style will also type poetry on the truck. These verses usually represent the emotions and feelings of truck drivers. The beautiful mountains of Pakistan are usually depicted in truck artwork. Some owners can also engrave selfies on the truck, while others like to paint horses, lions or beautiful birds (such as peacocks).
Many woodworks are done by hand. Professional workers engrave patterns inside and outside the truck cab, including the front and sides of the tire. This work is completely manual and does not require a machine.
Painter Haider Ali has earned a reputation for himself and his country in all corners of the world, and he has been teaching truck painting in a garage in Guillemar for the past three decades. Ali was born to express himself with his tenderness and generosity. He is a true patron of art and hopes to encourage emerging artists to embrace this genre and ensure its survival.
Ali's patterns and paintings have been exhibited in art museums around the world. His students are all over the world and have exhibited his work in more than 40 states in the United States (USA), Canada, Brazil, Germany, France, Bulgaria, India and many other European countries. He was also invited to give lectures at the University of the Arts and train young artists.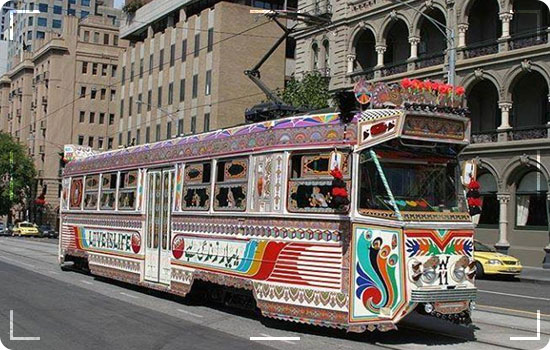 Several of his students went to Pakistan to have the opportunity to draw patterns on the truck. He also provided them with souvenir boards with handmade truck designs.
Ali made his first breakthrough in 2002, when the Smithsonian Museum in Washington, DC invited him to display his work. He made a deep impression, and invitations from other countries began to arrive almost immediately.
Today, a group of American women are receiving training with Ali in Karachi. He does not charge foreign students but asks them to travel to Pakistan and convey a positive impression of the country when they return. However, what makes Ali feel sad is that in the West, truck art is a unique genre, while in Pakistan, it only began to gain recognition after international attention. Ali aims to establish an art academy to teach this art to the next generation. According to him, the technical college is currently talking about truck art, but their technology and expertise are still limited to truck repair points, so a dedicated truck art college is needed to place truck illustrators.
Truck art has now acquired the status of commercial art. However, their buyers are limited to the wealthy class. Shahzad Hussain, a skilled artist in Karachi, created innovative designs to promote truck art. Hussein works in the handicraft market in Sardar from dawn to dusk and draws truck designs on various products.
According to Hussein, the most important thing is to let truck manufacturers understand customer tastes. He also strongly condemned the sale of this skill at a low price. "If handmade art paintings are sold at high prices, why not sell handmade art paintings?" asked. Hussein immediately demonstrated his strength and skill. Things made by Hussein decorate the living rooms of high-income families.
In addition, visitors to Zainab Market also buy handicrafts for their houses. He painted large and small models of passenger cars, trucks and horse-drawn carriages, and tourists took them as souvenirs. Hussein also used these vibrant and colourful designs to colour bags, wooden boxes, lanterns and various forms of furniture. He said: "It is difficult to concentrate when applying special Multani slippers called Khussas and Kheris. These slippers designed for women are in great demand in the high-end market," he said.
Hussein painted furniture in many homes and hotels in different cities. Today, he paints furniture in a Pakistani restaurant recently opened in the United States. Hussein learned this craft from Ali and took it a step further in a unique way.
Although truck paint has spread to other countries in South Asia as well as South America and Japan, the art form in Pakistan is at another level. In a separate industry, in Karachi alone, 50,000 people work in specialized handicraft workshops, and truck drivers want to spend a lot of money to ensure that their trucks are better than other trucks. Although the bright colours and decorative decorations are really beautiful, the drivers also think it is a good return on their investment. In Pakistan, truck drivers can spend up to two years decorating cars with colourful and gorgeous art.
Phool Patti is one most prominent companies for Truck Art for Purpose. Mr Mumtaz, as a director of Phool Patti and a master truck artist, this brings unique value-added to the company.
Phool Patti is a social enterprise that aims to promote the colourful and positive influence of Pakistan in the world. By describing our truck art culture, Phool Patti believes that they can not only represent the bright side of Pakistan but also help improve the condition and living standards of truck artists. The creative works of trucks can be seen anywhere in the world, and Phool Patti has worked hard for it. The exceptional team behind this concept are social and cultural businessmen. As the founder and creative director of Phool Patti, he is committed to providing truck artists with their due identity.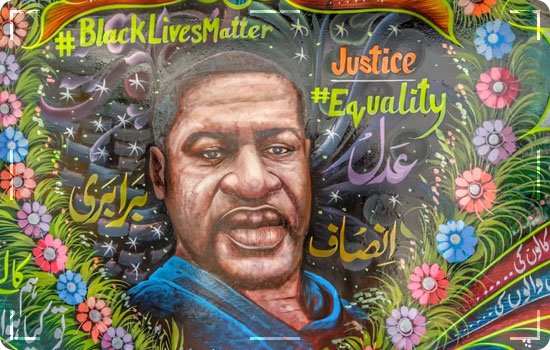 Truck art has expanded to walls, bridges, consumer goods, fashion industry, image industry and services such as restaurants, clubs and tour operators. However, Phool Patti team is not only these three outstanding figures but also a huge team working hard to achieve enthusiasm and colour. It strengthens women's capabilities and provides transgender people with the opportunity to live a decent life through contact with organizations. They got the most prestigious award in last years like, in 2017, he was named "Pakistan Creative Entrepreneur" by UNESCO. Also, Peace Entrepreneurship Award, this is one of the largest youth awards in Swat, Pakistan. Then, another one is of Phool Patti won the 2017 SATHA Innovation Award. Many more to go….
Final Words:
Decorating trucks and vehicle is a part of our culture and if it can be used a purpose, nothing better than this idea. This is the key is to convey the message of love, peace and friendship through truck art. But this is not limited to this. And because it has a sense of social responsibility, it is twofold. Promoting employment opportunities for truck artists and improving their living standards is one of the company's goals. Celebrate all the world-famous historical monuments, festive, with Truck Art from Pakistan.
Since 2017, Saba Ghani has been serving as the talented and dedicated chief content writer for Pakistan Tour and Travel & EMHI Solutions. With her exceptional writing skills and in-depth knowledge of the travel industry, she has been instrumental in crafting engaging and informative content that captivates the audience. You can catch her at [email protected] or Twitter