According to news sources, Prime Minister Imran Khan is expected to open the 167-kilometer Strategic Highway 1 (S-1) on Jaglot Skardu Road in Gilgit tomorrow.
Moreover, the Prime Minister may visit Skardu and unveil the road infrastructure. The project was revitalized in 2017 and took four years to complete. It is worth noting that the new Jaglot to Skardu road has been improved in several ways, including road widening and missing construction. Although this road is steep and dangerous, the locals are familiar with it, but tourists who like to travel by plane or visit other easily accessible places avoid it.
This road was originally developed by FWO in 1984. But the road was in poor condition due to heavy snow and frequent landslides.
Total Lenght of Jaglot Skardu Road
Jaglot Skardu road is an important link between KKH and Skardu. FWO has the concession to build its original runway, which was completed in 1984. The road is 164 kilometers long and the black roof is 3.66 meters wide. The challenging terrain includes heavy snow and large rock landslides.
Total Tunnels and Bridges on Jaglot Skardu Road
The project includes 5 tunnels to simplify traffic and 5 bridges. Additionally, Jaglot Skardu Road has four bridges that are fully functional, including two RCC bridges and two iron bridges. Plus, there are three small tunnels and one large tunnel is also constructed that will shorten the distance between Jaglot and Skardu by 42 kilometers
Massive construction of Jaglot Skardu Road
Building good roads plays an important role in promoting tourism in any country. In recent years, Pakistan has seen a significant increase in the number of domestic and foreign tourists, especially in its northern regions. Aware of the economic potential of these areas, the current Prime Minister Imran Khan's government has taken special measures to develop these areas, including several large-scale infrastructure projects. One of the projects is the construction of the Jaglot to Skardu road. 
Jaglot to Skardu Road is to be integrated Tomorrow by PM Imran Khan
Prime Minister Imran Khan may open the strategically important Gilgit-Skardu highway tomorrow. It was former Prime Minister Mohammed Nawaz Sharif who started the road construction work. The Jaglot to Skardu Road project is characterized by redevelopment, improvement, expansion, and construction. The old road for travelers to Skardu is very dangerous, because of the sharp bends and narrow lanes, a professional driver like the locals is needed. Due to poor road conditions, tourists prefer to travel to Skardu by plane or travel by road to other areas in the north.
The Jaglot Skardu road was originally constructed by Frontier Work Organization (FWO) in 1984, but due to frequent landslides and heavy snow every year in the area, the highway has been severely damaged. Considering people's interest in visiting Skardu, the traffic conditions on the road, and the annual fatal accident rate, road improvement, and widening are very important to provide safe passage for people and tourists.
Considering that this road is a tourist attraction and therefore very popular, the width of Jaglot to Skardu road has been increased from 3.6m to 7.3m. This will make the traffic on the road smoother. In addition, the time from Gilgit to Skardu is about 10 hours, which will now be shortened to four hours.
Jaglot Skardu Road Importance For Tourism Industry
The Jaglot Skardu road is 160 kilometers long and connects Gilgit and Skardu, the two major cities of Gilgit-Baltistan. This road is not only of great significance to the development of Pakistan's tourism industry. But also used by the armed forces to reach the borders of Kargil, Batalik, Chourbat, and Siachen. This will also greatly shorten their distance to reach the limit.
Additionally, it is also believed that after improving the Jaglot Skardu road, this highway becomes an integral link between the Karakoram Highway (KKH) and Skardu. A few years ago, Gilgit-Baltistan was given an important position in promoting economic activity. Due to the expansion of the China-Pakistan Economic Corridor (CPEC). The China-Pakistan Economic Corridor has become a guarantee for the growth of infrastructure, economic activities, and tourism in the region.
A Way To Boost Tourism In Gilgit Baltistan 
Gilgit-Baltistan is visited by a large number of tourists every year because of its very famous areas, such as the Naltar Valley, Gilgit, and Hunza cities. The county has many beautiful areas, mountains, and meadows frequented by local and international tourists. In recent years, due to the extensive road network developed by the Pakistani government, tourists have begun to explore areas far away from Naran.
Busiest Gilgit-Baltistan Karakoram Highway
Importantly, KKH is the primary trade route between Pakistan and China. The Karakoram Highway (KKH) was developed a few years ago, paving the way for tourists to access the Khunjerab Pass. It is the world's highest international border crossing between Pakistan and China and the highest point of the Karakoram Highway. Known as the eighth wonder of the world, KKH stretches for miles of valleys, waterfalls, and mountains.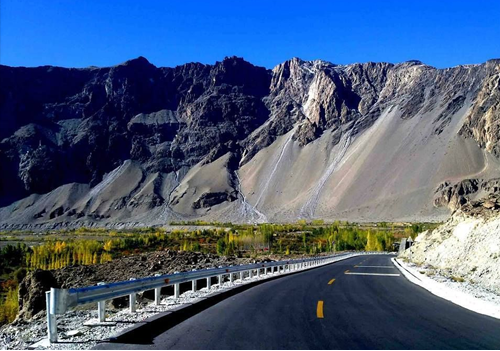 Additionally, KKH traces the ancient Silk Road connecting China and the Indian subcontinent, and it is an important trade route even today. The total length of the highway is 1,300 kilometers, of which the Pakistan part is 806 kilometers long. Except for some areas, which are covered by heavy snow in winter, it can pass through the whole year. It started at Hassan Abdal in Attock District, Punjab, and ended at the Pakistan-China border.
Since 2017, Saba Ghani has been the chief content writer for Pakistan Tour and Travel & EMHI Solutions. You can catch her at [email protected] or Twitter