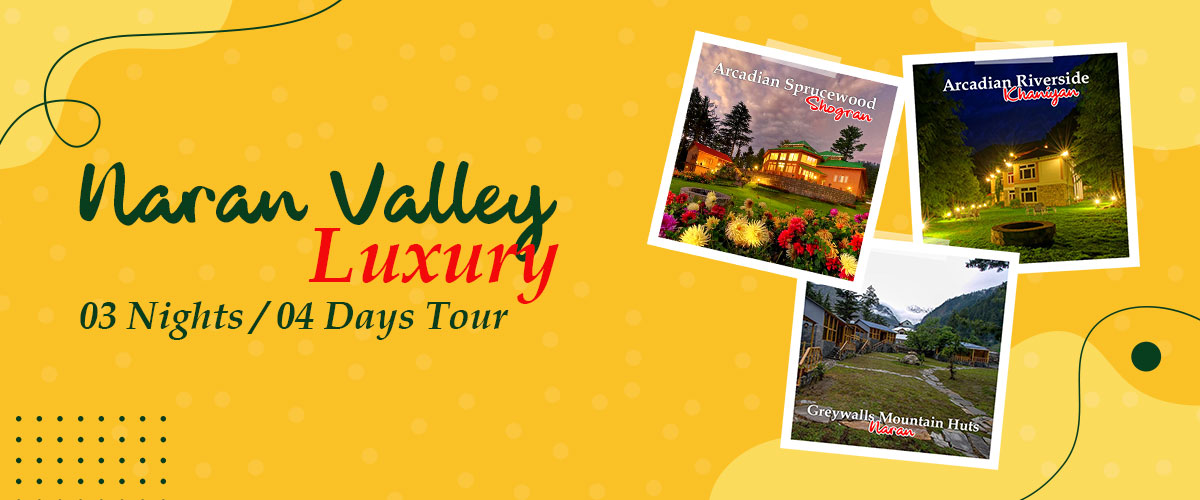 Naran Valley Luxury Tour Package for 4 Days, 3 Nights
Naran Valley is a top-notch visiting place for couples who want to relax in the serene areas of Kaghan valley. Surrounded by lake Saif ul Malook, Lulusar Lake and might Kunhar River splashing its milky waters all-time-like soothing sound to wish to listen to all day long. Naran Valley Luxury tour packages is only for those who do not want any compromise on quality and want to entail maximum pleasure in a private tour offered in Naran Kaghan Valley.
Naran Luxury tour Consists of the most beautiful private Resorts in Naran Kaghan Valley and Shogran valley with the latest Model Vehicles. Pakistan tour and travel endeavours to offer unique cottages and resorts in this package and covers the most happening places of the Naran Region.
Read our client's reviews, here
Naran Valley Luxury Tour packages are for those who like the style and only need modern furniture, beautiful views and world-class amenities. The Naran Shojran Valley is also the valley with the highest tourist capacity in the northern region of Pakistan. We offer the latest models and dedicated private drivers, and updated vehicles in our premium hotels and public resorts in the Naran Shogran Valley, respectively. Hotel Deep Forest, Greywalls Cottages, and Arcadian Shogran offer stunning views.
The road is open from mid-June to the end of October, and we plan to travel to Gilgit-Baltistan this season. These areas offer a variety of rivers, glacial streams, green hills, lakes and snow on top of Babusar. Shogran and Naran provide overnight accommodation, while other tourist attractions offer short-term accommodation to enjoy the view. This route is fun for those who like to experience a variety of interests. We also provide bespoke tours with several nights in Naran and Shogran dedicated to exploring each area and absorbing the surrounding beauty. Naran Valley Luxury Tour offers overnight luxurious accommodation in Naran. Kaghan Valley can also be explored by booking individual tours or group tours offered in the summer.