Narh waterfall in the pristine Narar valley of Rawalpindi. This waterfall is a popular tourist spot throughout the year. The main attraction of this location is the breathtaking panoramic view of the Narar Valley from atop the waterfall.
It has a wide variety of wildlife, lush green forests, and mountain streams, making it an ideal spot for nature lovers. Visitors can observe various species of birds and animals in their natural habitats.
Narh Waterfall is a beautiful natural attraction near Kahuta, Pakistan. It is located among the Panjpeer Rocks, cliffs, and peaks, offering stunning views of the surrounding valleys and forests. The waterfall is easily accessible by road and a short hike, and it flows over a solid rock formation into a pond below. It is a popular picnic spot for people from nearby areas and Islamabad. The waterfall is also close to the Punjpeer Ziarat, a holy shrine at the area's highest peak. The climate there is breezy and relaxed, even in the summer.
Overview Narh Falls Panjpeer Rock
Narh Falls, also known as Noorabad Falls, is located behind the city of Kahuta on the border of Azad Kashmir, Pakistan. Even in summer, the climate here is pleasant and comfortable. Due to the high height of the site from the ground, it is completely blown by the cold mountain wind, which keeps the weather cool and humid. Narh Waterfall is still some distance away from Islamabad. The town of Narar in Kahuta, Pakistan, is about a 3-hour drive from Islamabad. Depending on traffic conditions, the ride may be longer or shorter. If you start early, the time between Kahuta and Islamabad can be reduced to an hour and a half. This is a wonderful place for perfection, calm, walking, and de-stressing. Narh Waterfall is one of the most accessible waterfalls.
The highest point, Panjpeer Ziarat, is 1775 meters above sea level. It also gets brittle in winter and when it snows. The climbing tour takes approximately 45 minutes to an hour.
Narh Waterfall Panj Peer Rocks are located amidst the stunning beauty of the famous PanjPeer Rock. Pakistan has many amazing destinations for you to visit. If you are looking for marvelous mountain scenery, you are in the best place. After admiring the area's natural beauty, you can visit Narh Waterfall, also known as Narh Kalaga Falls. This waterfall is set amidst pure nature in the Astor Valley. Gaze at this beautiful spot and let your memories melt into the panorama of the Astor Valley.
How long does it take to hike there?
According to one source, it takes about 45 minutes to an hour to hike to the Punjpeer Ziarat from the last vehicle parking space. The hike to the Narh Waterfall is much shorter, only about 10 minutes from the road.
Can you swim in the pond below the waterfall?
Yes, you can swim in the pond below the waterfall. It is an everyday activity for visitors who enjoy the cold, clear water and the thrill of cliff diving. However, you should follow safety precautions, as the water can be profound, and the rocks can be slippery. Some people have also reported seeing snakes in the area. You can watch some videos of people swimming in the pond here.
Can you camp overnight at Narh Waterfall?
Yes, you can camp overnight at Narh Waterfall. It is a good option if you want to enjoy the area's natural beauty and cool weather. However, you should bring your food, water, and camping gear, as no facilities or restaurants are nearby. You can also camp at the top of the Panjpeer Rocks, which offer a panoramic view of Azad Jammu and Kashmir. You can watch a video of someone camping at Narh Waterfall here.
Narh Waterfall Near By Attractions, When and Where
The waterfall is beautifully situated in this charming and enchanting place. The Holy Visit sits on the highest peak in the area. From the last parking spot, it's a gentle 45-minute climb. It was fantastic, with a complete view of Azad Kashmir. The atmosphere of the place itself is very charming and relaxed. Every travel lover must visit this climate at least once. This is the main attraction of Narh Kahuta Waterfall. Many people travel long distances to enjoy nature with their body and mind. Many photography enthusiasts go to Narah Falls to take photos and share them with friends and social media. These photos increased the popularity of Nara Falls and its attractions.
When is the best time to visit Nara Falls?
In summer, the climate and temperature in Panjpeer Rocks are windy and cool. The pictures and photos of Punjpeer Rock are wonderful. Due to the high altitude and location of Narh Waterfall, the temperature remains cool throughout the year. The whole place is exposed after the cool mountain wind, so you should always wear thick clothes.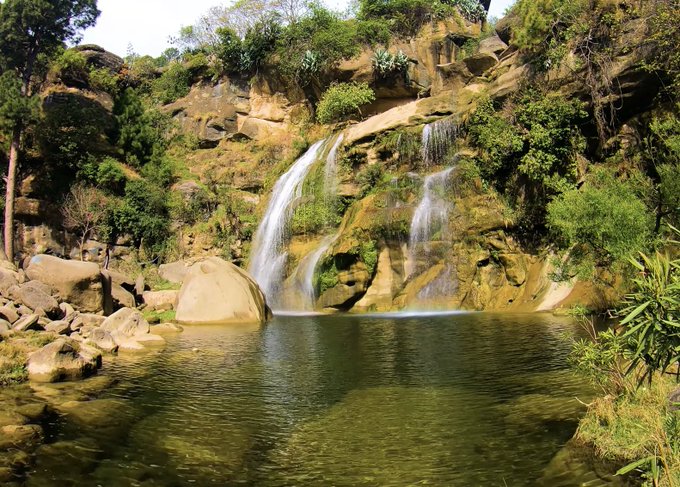 Since this area exceeds the total population range, anyone has not destroyed the forest. They are in the correct shape. This forest is very dense and beautiful. Watching them from a height is an unforgettable experience. So, the best time to visit Narh Falls depends on your choice. It is recommended to visit the falls in the summer. There isn't much of a crowd here except the locals. Green grassy meadows and cattle grazing in the fields can be seen all year round. In winter, spring, and autumn, the region is twice as cold as in summer. The cold wind stung the bones under the layers of sweaters.
Is it safe to hike there? 
Before starting your journey, you must prepare some required items. These things help make your experience very convenient and protect your life. The first and most important of these is the life jacket.
 Life jackets are beneficial for surviving in constantly flowing water. A life jacket prevents you from diving underwater. Its inflatable outer layer keeps people afloat in the water without drowning anyone. Therefore, if you are traveling with young adults or children, it is imperative that you also have a life jacket. Food and water are important sources in these remote areas.
Sometimes it takes work to find someone and order from them. There are shops in the local residential area, but it is farther from the falls. So you should carry food and water with you. The place is rocky, and the rocks often get slippery and destructive.
Water and moisture smooth rocks. Likewise, grass can become slippery and trip you up. Therefore, wearing walking shoes is necessary and safe. 
Walking shoes have more grip than regular running shoes. The enhanced grip of the hiking boots protects you from slippery rocks and harsh air humidity.
 Climbing shoes provide everyone with stability, a balanced stance, and speed, which is why you should choose these shoes.
In addition, these places are also places for camping and picnicking. You won't find camping gear here. Bringing camping equipment, such as barbecue materials, tents, mats, floor mats, etc, is recommended. 
All to help you feel comfortable in windy, cold, and wet conditions. You can also bring barbecue equipment, skewers, and charcoal to cook there upon arrival. In addition, it is recommended to purchase an additional pair of shoes and clothing. The possibility of accidents in violation of all hygiene measures remains. 
Therefore, purchasing a first aid kit is recommended to protect yourself more thoroughly. A small group is enough. Bandages, cotton pads, balms, staples, ointments, etc. will suffice.
Things to do at Narh Waterfalls Rawalpindi
Although the road is several kilometers long, it is beautiful. The beautiful trail to the waterfall offers excellent views of the area. Forests, landscapes, trees, meadows, meadows, and distant mountains can all arouse wonderful feelings in the human heart. You can take pictures from the car window to preserve these memories. The lush green hills and cool sea water have left unforgettable memories for people. It always makes you want to come back again. All these features make this place a perfect picnic spot for friends and family.
There are many things to do at Narh Waterfall. You can go hiking, which is not only good for your physical health, but also your mental health. After some fresh air from your cliff diving, dip in the calm, clear waters of Narh Waterfall. My favorite habits of all are camping and photography. Wherever you look, you'll find something to capture: a tree, a fir tree, a bird, a distant forest, a mountain, or a beautiful waterfall.
How to get to Narh Falls?
Naira Falls is located near the back of Kahuta on the Kashmiri border. The distance from Islamabad to here is 70 kilometers, and it only takes 2 hours from Islamabad to Kahuta. From Kahuta, you have to take a beautiful trail to Nalei Falls. The total mileage is 70 kilometers, and it takes nearly two hours to get there by a 4×4 family car. It takes about 45 minutes to hike to the falls. It is a safe place for families.
Final Thoughts 
If you're in or around Islamabad or Rawalpindi, this is a great place to visit after a hectic day-to-day life. Narh Waterfall is an ideal place for families and picnics. Its unique beauty, altitude, forests, and landscapes invite you to have a good time and are worth a visit.
Since 2017, Saba Ghani has been serving as the talented and dedicated chief content writer for Pakistan Tour and Travel & EMHI Solutions. With her exceptional writing skills and in-depth knowledge of the travel industry, she has been instrumental in crafting engaging and informative content that captivates the audience. You can catch her at [email protected] or Twitter