Complete Thailand Visa Process: How to apply for Thailand Visa?
Thailand is one of the most famous tourist destinations in the world. From the five-star royal hotel in Bangkok, the capital of Thailand, to the simple beach bungalows on Koh Samui or Samed Island, there are various tourist accommodation options.
Thailand has many things to offer, and one visit is not enough. This country has fascinating landscapes, mountains, forests, and lush islands. Another feature of the state is its traditional food. Pakistani travellers who want to visit Thailand need a Thailand-Pakistan visa. Thailand visa processing takes approximately seven days.
Thailand Tourist Visa
Pakistani citizens need a Thai tourist visa. The stay is usually 90 days, and the visa expires within 90 days. Applicants must not be present when applying for a tourist visa to Thailand. A total of 5 documents are required to apply for a Thai tourist visa. You can also find helpful tips from other travellers.
Thailand E-Visa For Pakistani Passport: 
Unfortunately, Pakistani citizens do not have an e-visa or visa on arrival, which can be used to obtain a Thai visa. This means they must visit the Thai Embassy/Consulate in Pakistan or any country/region where they are or are staying to get a Thailand visa before departure.
How to apply for a Thailand visa in Pakistan?
If this is your first visit to Thailand, you must visit the Thai embassy or consulate in person. If you have been to Thailand once, you can apply through a travel or visa agency. Once you get your first visa, you can submit your application to any travel agency, visa agency, or Gerry company in Pakistan that processes Thailand visa applications for the second time.
Thailand visa requirements for Pakistanis
Whether you visit Thailand for the first or second time, you must submit the following documents. However, the list of documents for the Royal Thai Consulate in Karachi is slightly different, and the Thai Embassy in Islamabad has additional requirements.
General requirements for obtaining a Thai visa:
Passport valid for six months

Old passport (if any)

Two visa application forms (filled and signed)

Two passport-sized photos

Copy of CNIC certificate on A4

Copy of passport-first four pages

Bank statements for the past 6 months (minimum balance is Rs 200,000)

Bank account maintenance certificate

A letter from the employer stating your job and salary

NTN certificate (if you are a business owner)

Confirmed flight or ticket reservation

Household registration certificate (in the case of bringing family members)

Marriage certificate (when traveling with wife)

Form B (if the child goes with you)

Tourist visa fee 5000 rupees (one entry)
Note: The visa form can be downloaded from the official websites of the Thai Consulate General in Karachi and the Thai Embassy in Islamabad.
You can also obtain these visa forms at the consulate or embassy. But it is best to print a hard copy at home and bring the completed form with you to avoid trouble.
Please remember that residents of Khyber Pakhtunkhwa, Punjab, and Kashmir can submit applications at the Islamabad embassy. Residents of Sindh and Balochistan can apply at the Karachi consulate.
Thailand visa for Pakistan passport
Visa fee and processing time for Thailand visa
Thailand offers a variety of visas to Pakistani citizens. They have different fee structures for different visa types. For your understanding, the following are fees and visa types.
Single-entry tourist visa: 5000 rupees (valid for three months-maximum stays of 60 days)

Multiple entry tourist visa: 25,000 rupees (valid for six months)

Single entry transit visa: 4000 rupees (valid for three months)

Double transit visa: 8,000 rupees (valid for three months)
When you submit your application to the Thai Consulate in Karachi, you will receive a receipt from the visa officer after the case is approved. They will indicate the date of returning your passport on the receipt. You must go to the consulate on that day to retrieve your passport. It takes five working days for the embassy to issue a visa.
Please remember that the time to submit the visa application is from 8:30 am to 10:30 am, and the time to return the passport is from 11 am to 12 pm. This time and process are specific to the Karachi consulate.
Tips for obtaining a Thai visa in Pakistan
If you are going to Thailand for the first time and do not know how to prepare documents, a reliable travel agency in Pakistan can prepare documents for you for a small fee. Preparing the documents means they will prepare your flight reservations, hotel reservations, and cover letters. You must bring bank statements and other official documents. If this is your first visa, you must apply yourself.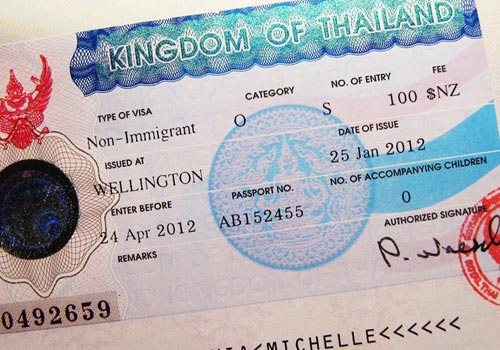 Special note: You can provide temporary flight and hotel reservations for visa purposes. But remember, when you arrive in Thailand, you must have a confirmed return ticket or onward ticket and a confirmed hotel reservation. You must also bring at least $500 with you. This is the entry requirement for Thailand. Visa is one thing; entry is another.
Frequently Asked Questions About Thailand
What month is the best month to go to Thailand?
In terms of weather conditions, the best months are from November to March because the weather in those months is perfect. However, if you visit from April to October, which is known as the low season in Thailand, you will find cheap hotels and tour groups. Generally speaking, Thailand is a tropical country, so it always rains.
How much budget should prepare for Thailand?
Thailand is an affordable tourist destination. You can fly to Thailand for only $40 a day if you are alone. A hotel room usually costs between US$15 and US$20 per night, and you can comfortably eat the rest. However, it always depends on what a person likes and how much he wants to spend.
Is Thailand safe for women travelling alone?
Yes, it is safe to travel alone and travel with everyone. But as a precaution, you should always store valuables in a safe place and continuously monitor them.
Which airline is best for booking flights to Thailand?
Thai Airways operates direct flights from Karachi/Islamabad/Lahore to Bangkok. You can also use airlines from Sri Lanka, Etihad, UAE, or Qatar. The best option is to check your date on skyscanner.net, the website will show you the cheapest flight for your date, and then you can book that airline.
Where can I find cheap hotels in Thailand?
You can easily find and book hotels in Thailand on agoda.com. Personally, this website is perfect for booking flights, and it always provides the best choice for my travel dates.
Final Words: 
I hope this Thailand visa guide for Pakistani passport holders will help you plan your trip to Thailand. Despite the covid times, it is always the best time to travel. The good news is that Thailand has resumed all types of visas for Pakistan. Read it out here.
Since 2017, Saba Ghani has been serving as the talented and dedicated chief content writer for Pakistan Tour and Travel & EMHI Solutions. With her exceptional writing skills and in-depth knowledge of the travel industry, she has been instrumental in crafting engaging and informative content that captivates the audience. You can catch her at [email protected] or Twitter