Tourism in Gilgit Baltistan
Gilgit Baltistan Government has announced that it would build the new resort in the next fiscal year. The elected PMLN Led government funds have been increased remarkably from 400 million to 750 million Pak Rupees Which shall enable the new provincial head to make rapid improvements in Gilgit Baltistan infrastructure that has been neglected for decades.
Chief Minister Hafiz Hafeez Ur Rehman has backing from Prime minister of Pakistan Mr. Nawaz Sharif who has been showing his full confidence of incumbent chief minister. Various development projects are being initiated. Recently one of biggest project of Gilgit Baltistan has been completed namely Re-Alignment of Karakoram Highway near Gojal on Attahabad lake. It was destroyed a few years back. The new tunnel has been started 5 years ago and it has been opened for traffic now. It contains 4. 7 km tunnel and various small bridges.
Skardu road has been started as well. Gilgit Skardu road has been avoided for many decades. That has caused many major accidents. The road expansions were the need of the hour. This year 6 to 7 lac tourists have visited Gilgit Baltistan.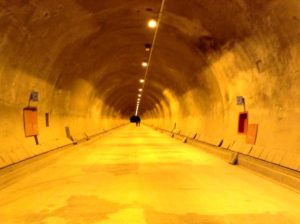 With the different development projects in the past few years, Tourism in Gilgit Baltistan rapidly, especially in Hunza and Skardu. As the road infrastructure that is spread in all Pakistan by the recent government is a huge step in reaching the unexplored miracles of Pakistan.
Gilgit Baltistan offers panoramic and enchanting beauties that cast a spell on the visitor with its ravishing beauty
Whether you talk about the Hunza valley or the Khaplu roads to Skardu each and every corner of Gilgit is a treat to watch.
As from the above-mentioned statistics, Gilgit Baltistan is developed in many different ways.
For instance, starting from the roads, the locations that were inaccessible due to under-constructed roads are now easily available.
Additionally, in the first phase of the mega CPEC project, there was a reconstruction of the Karakorum Highway that plays a pivotal role in approaching the less known areas.
Now a road journey to Gilgit became a game of hours. You can reach Gilgit in 10 hours drive from Islamabad with complete peace of mind.
Moreover, Skardu Airport is a massive advancement in promoting Tourism in Gilgit Baltistan.
Some of the major Tourist Spot in Gilgit Baltistan are:
 

Hunza Valley

 

Skardu Valley
 Shigar Valley

  

Naltar Valley
 Gupis Valley
 Astore Valley
 Khaplu Valley
 These valleys are considered to be the main reason for capturing tourists to Gilgit.
Furthermore, in these valleys, there are millions of other neighboring areas that are identically enchanting and bewitch its visitor with their perplexing beauty.
In Gilgit Baltistan, you will find an abundance of lakes, cold desert streams, rivers, gigantic mountains, huge glaciers, wide highways, rare flora and fauna, the richly green carpeted land with dense deep forest. Gilgit Baltistan without any doubt is a land of miracles and amazement. The tourist visiting Gilgit Baltistan found a complete package, trekking, hiking, fishing, skydiving, rafting, and much more.
Ejaz hussain is CEO of Pakistan tour and travel operating in Northern areas of pakistan offering honeymoon Packages from Pakistan in affordable rates with good quality services.