Toyota Grand Cabin 13 Seater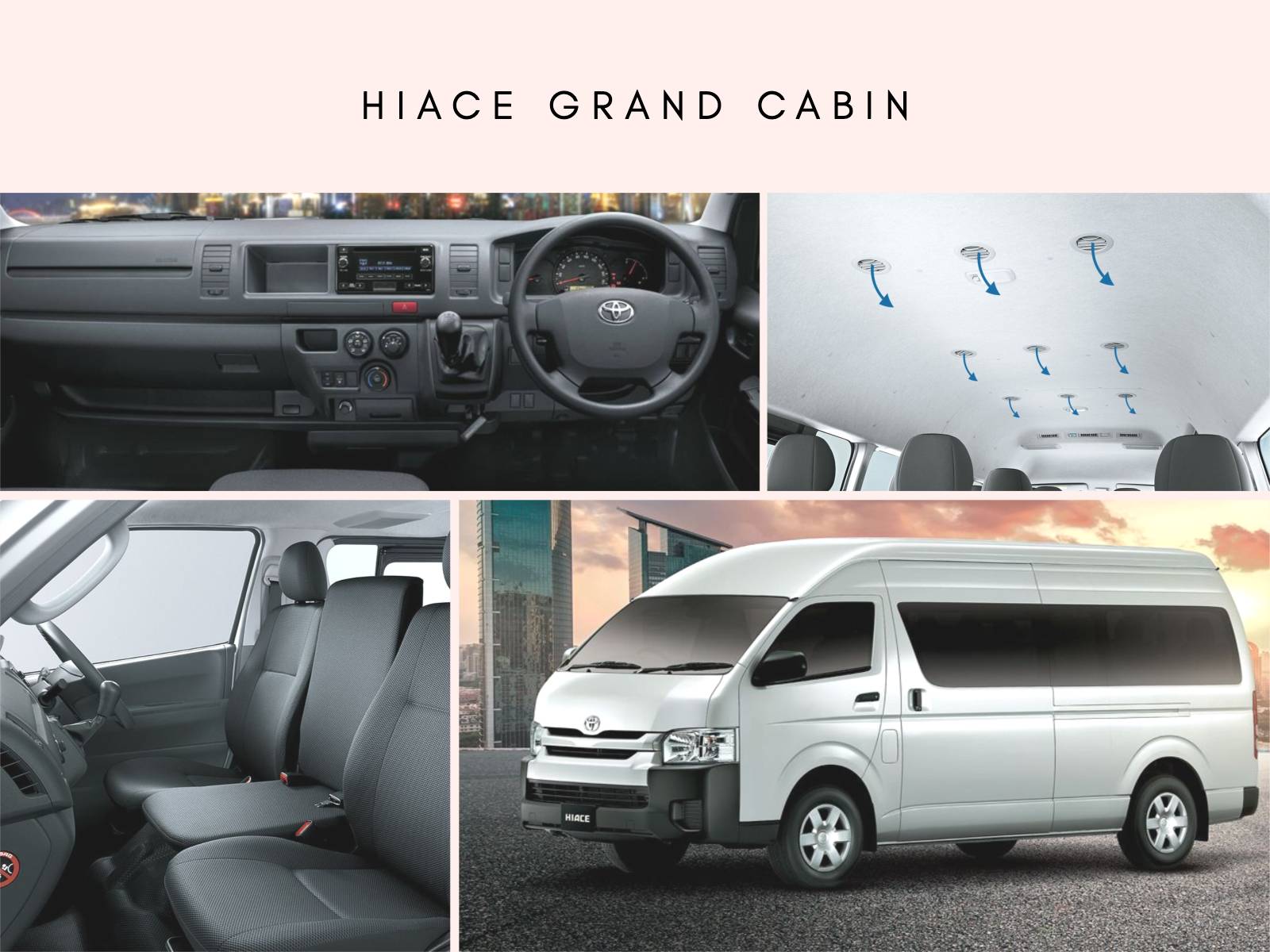 Toyota Grand Cabin 13 Seater – First Choice of Small Groups in Northern Pakistan 
When it comes to group travel or transportation of a sizable number of people, the Hiace Grand Cabin emerges as an ideal choice. Seamlessly combining space, comfort, and efficiency, this vehicle has become a popular option for those seeking to explore Islamabad and Rawalpindi, two of Pakistan's bustling cities. The availability of Hiace Grand Cabin on rent from Islamabad has revolutionized group travel, offering a convenient and enjoyable experience for locals and tourists alike.
The Hiace Grand Cabin is designed with the purpose of providing a comfortable and spacious environment for passengers. With its ample seating capacity, it can accommodate a significant number of individuals, making it perfect for family trips, corporate outings, or tours with friends. The plush seats and well-designed interior ensure that passengers can travel for extended periods without feeling fatigued. The large windows allow passengers to enjoy scenic views as they travel through the vibrant streets of Islamabad and Rawalpindi.
Renting a Hiace Grand Cabin from Islamabad opens up a world of convenience. The process is typically hassle-free, with various rental agencies offering these vehicles with flexible rental durations. Whether you need it for a few hours, a full day, or even multiple days, you can find a rental plan that suits your specific needs. This flexibility is particularly beneficial for tourists who want to explore the city's attractions at their own pace.
One of the significant advantages of the Hiace Grand Cabin is its versatility. It can serve multiple purposes, from airport transfers to city tours and even intercity travel. This adaptability makes it a popular choice among both locals and visitors. Tourists can conveniently hop on a Hiace Grand Cabin upon their arrival at Islamabad International Airport and be transported to their accommodation without the hassle of arranging multiple vehicles.
The Hiace Grand Cabin is also equipped with modern amenities that enhance the overall travel experience. Air conditioning ensures a comfortable journey, even during the scorching summer months. Additionally, the vehicle offers ample space for luggage, further adding to the convenience factor.
When exploring Islamabad and Rawalpindi, having a reliable mode of transportation is essential. The Hiace Grand Cabin's robust engine and sturdy build make it a dependable choice, ensuring a smooth and secure ride. This is particularly crucial when navigating through varying terrains or congested urban areas.
Why Toyota Grand Cabin 13 Seater?
In conclusion, the availability of Hiace Grand Cabin on rent from Islamabad has transformed group travel in the region. It provides a blend of comfort, space, and convenience that caters to the needs of various travelers. Whether it's a family vacation, a business trip, or a group adventure, the Hiace Grand Cabin offers a reliable and enjoyable mode of transportation.
Its versatility, modern amenities, and spacious interior contribute to a positive travel experience, allowing passengers to explore Islamabad and Rawalpindi with ease. As these cities continue to attract visitors for their cultural heritage, vibrant markets, and historical landmarks, the Hiace Grand Cabin stands ready to offer an efficient and comfortable way to traverse their bustling streets.